We spent over 2 months in Baja and we loved the beaches in La Paz Mexico.
La Paz was actually one of our favourite places this winter! After crossing the Mexican border with our RV, we stayed at different campgrounds before getting to La Paz.
We spent a total of 6 weeks there so quite a long stay and we really got to know this beautiful city.
The beaches in La Paz Mexico are one of the main reasons why people come and visit. We were able to see several of them which we will list here. We'll also share the many other things you can do in the capital of Baja California.
We really liked being there for so long as it allowed us to tick many things off our list!
If you're planning on coming to Baja California, the beaches in La Paz Mexico are definitely something to add to your list of things to do!
We hope this post will help you prepare your future trip to this beautiful part of Mexico.
About La Paz in Mexico
La Paz is located in the region of Baja California Sur, a region outside of Mexico mainland.
It is the capital of Baja, with nearly 250 000 inhabitants and almost 300,000 counting the whole urban area.
Best beaches in La Paz Mexico
There are many beaches in La Paz Mexico and we decided to list the best ones in our opinion.
Playa El Tesoro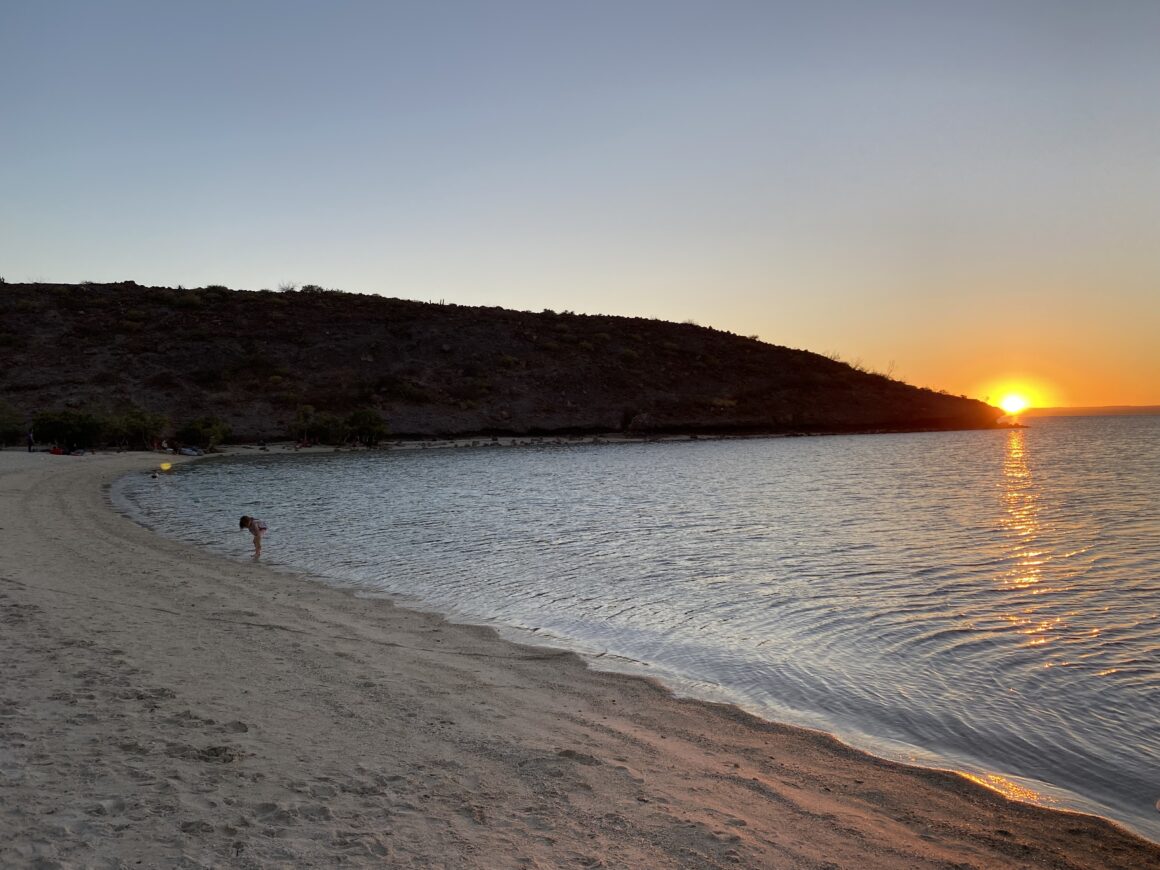 Small beach less busy than other beaches near La Paz. The water is shallow so it's great with little kids. There's a small restaurants and restrooms there but we didn't go. It's 20 minutes from La Paz by car.
Pichilingue beach
A beautiful beach that's further north. The only negative side is that it is close to the marina where the ferries for the mainland depart. We didn't have the chance to go there but we drove past and a lot of people advise to go even if it is not as popular as Balandra.
It's about 25 minutes from La Paz town centre by car.
La Balandra beach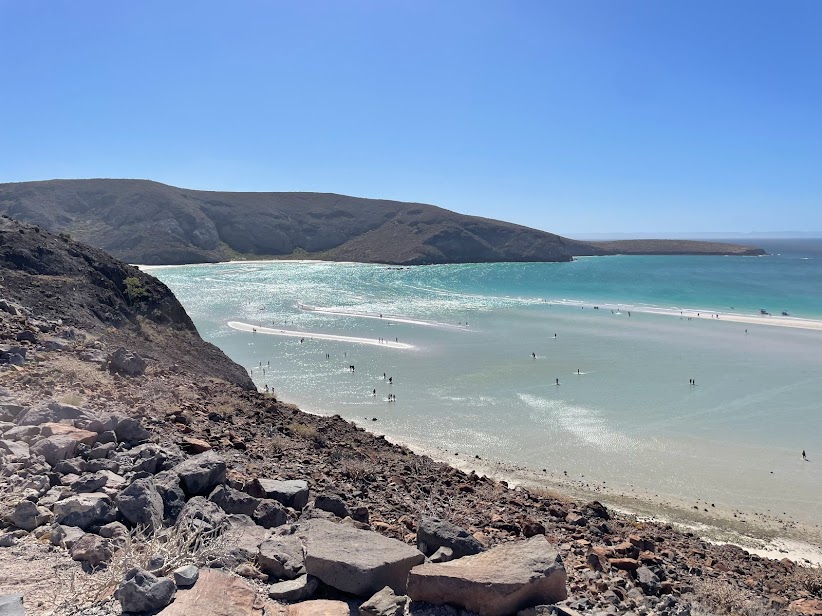 Considered the best beach in Mexico just that, we thought it really was amazing.
How to visit? Visits are limited to preserve this wonderful beach. So it is possible to get in on two times slots: from 8am to 12pm and from 1pm to 5pm.
Depending on the days and the season there'll be more or less people. We arrived around 1:15pm on a Friday beginning of February, there was a line to get in but we got a parking spot. Better go when tide is low so you can really go far out and see the beautiful color of the water.
It was free when we went (we read that there was a fee in other blogs) and we had no limit of time (sometimes limited to 2 hours). Dry toilets with tips.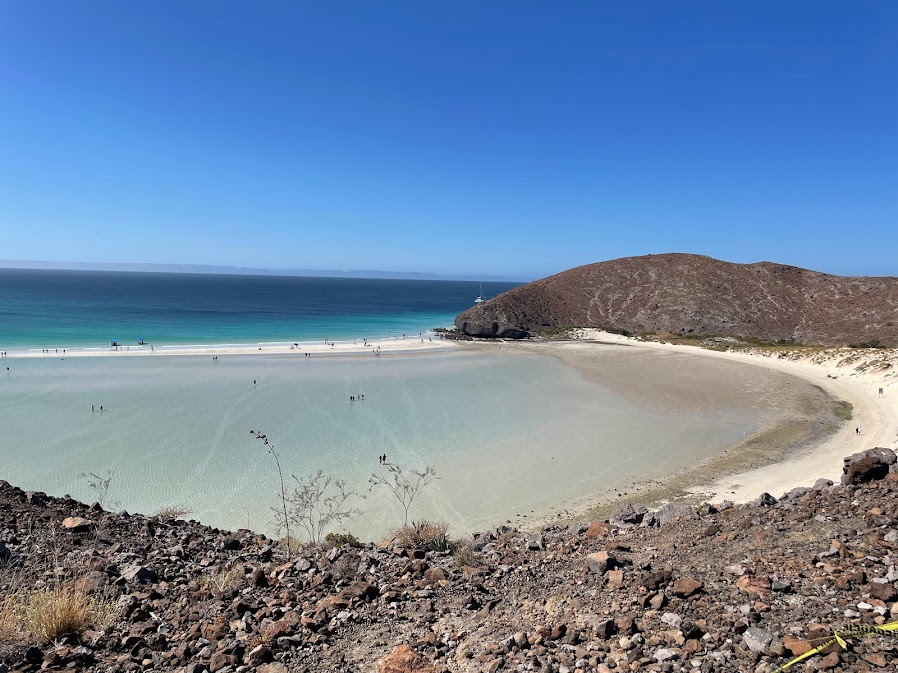 There is also the possibility of renting kayaks and paddle boards. No restaurants there.
There is a small hike that allows you to have a great view on the whole beach. It's about 20 minutes out and back.
This beach is 30 minutes from the centre of La Paz by car.
Tecolote
It's the beach that's the furthest north from La Paz. Lots of people stay there with their RVs. We didn't get a chance to go sadly but it's a beautiful beach with a very big parking.
We're hoping to get off grid for next year so we can boondock there!
It's just over 30 minutes from La Paz town centre by car.
Other things to do in La Paz Mexico
Walk along the Malecón (boardwalk)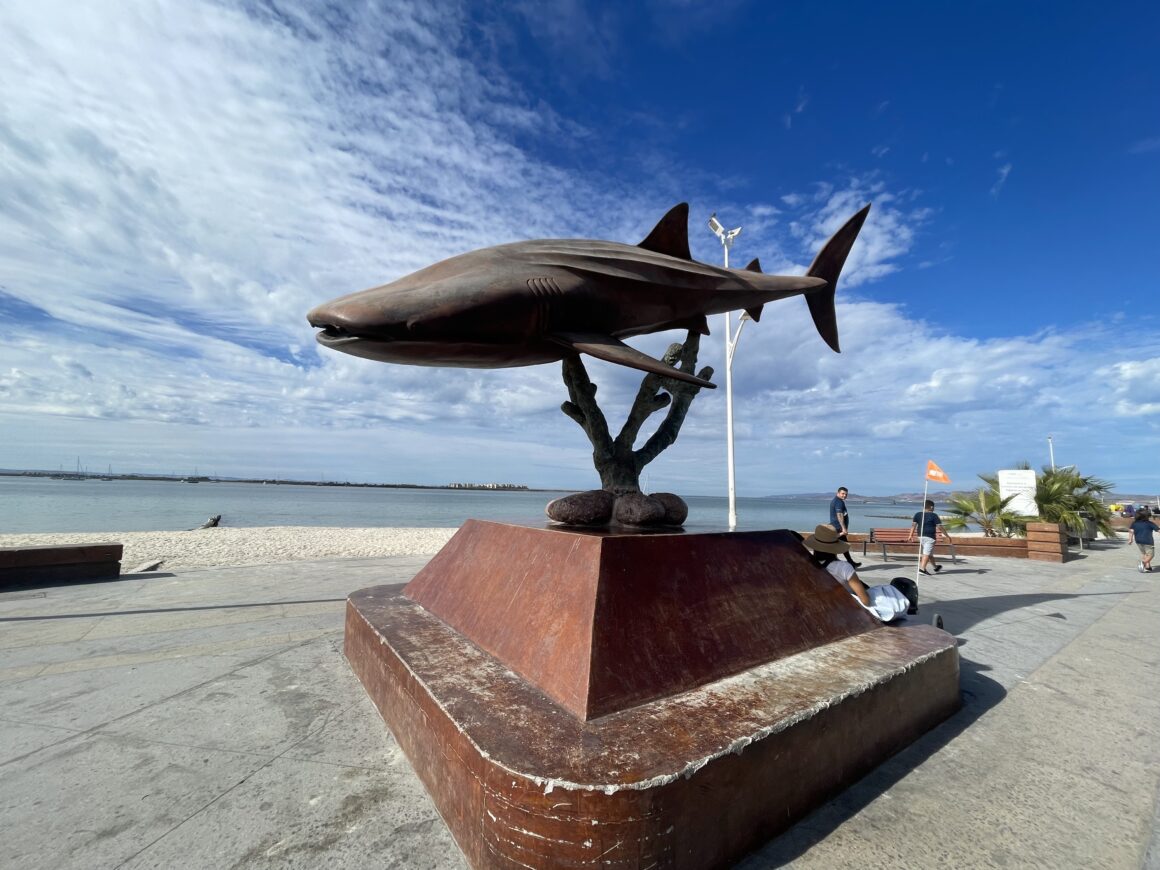 The boardwalk by the sea is very long and well maintained. There is a bike lane and all along the boardwalk you can see sculptures with a sea theme and there's even a playground for kids.
It's very nice and we enjoyed going there a lot.
Our lady of La Paz cathedral neighbourhood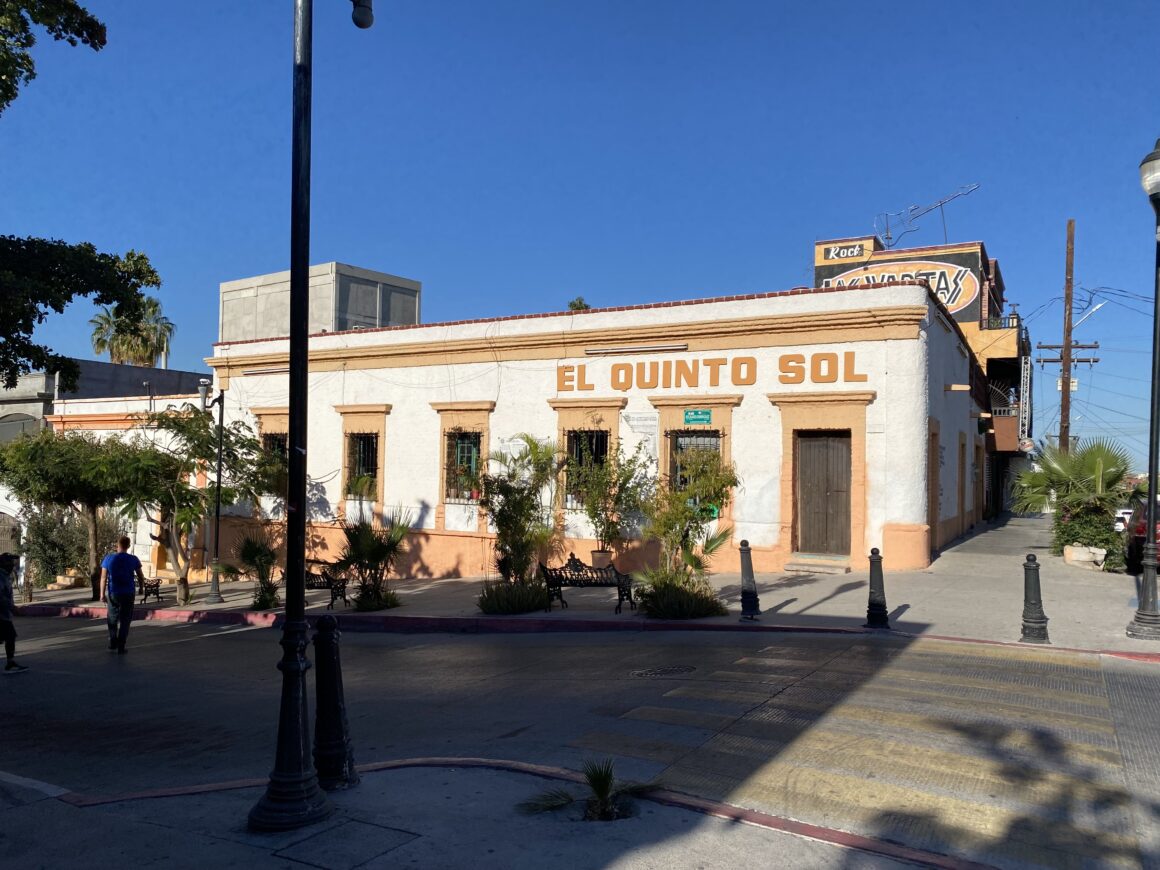 Without hesitation it is our favourite neighbourhood in La Paz! Lots of lovely boutiques, one of our favourite vegan restaurants in there as well as an amazing bakery with vegan options.
That's where the cathedral Our Lady of La Paz is located. There also the pretty Valesco garden with artists selling their art. We even saw someone playing violin one night we went there. Very lively!
There's also the emblematic lamp posts behind the art museum.
Cerro de la Calavera hike in La Paz Mexico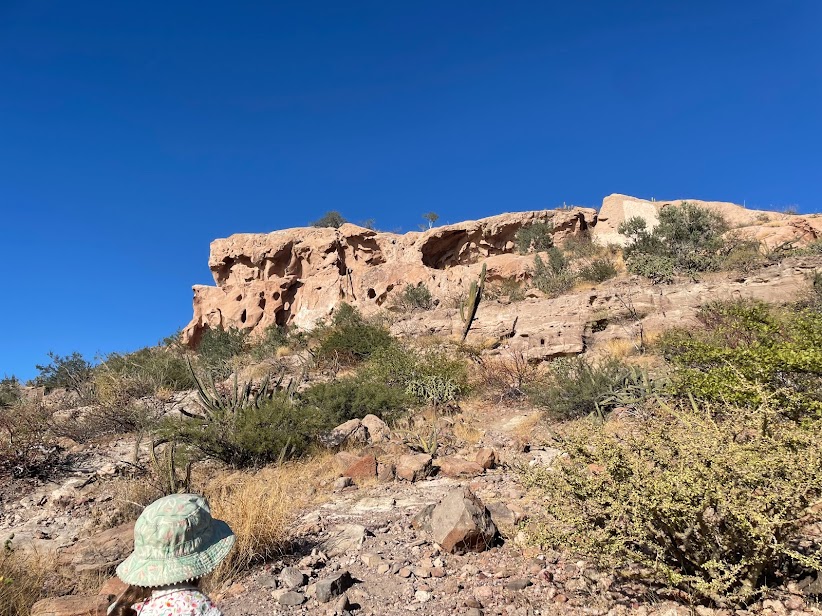 We did this mini hike in La Paz because there was a nice view over the beach and marina. It was also pretty cool to see these rock formations that looked like skulls (hence the name Calavera).
The negative side was that the path was not marked and it was pretty steep and the path was not really defined anymore towards the end. So it's important to be careful and above all have good hiking shoes! We still did it with our 6yo daughter and it went well. So it's doable with children who are used to hiking.
The beginning of the hike is on the left of the white house (map below).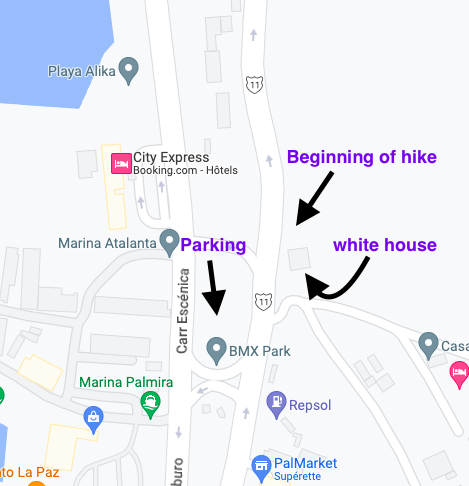 Eco-tours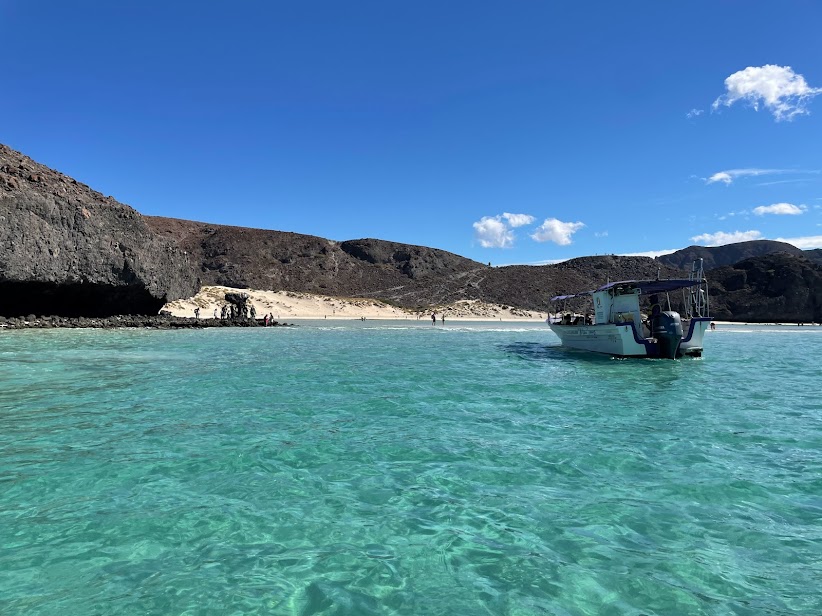 The beaches in La Paz Mexico are very popular but the eco tours are pretty much as popular!
There are many options on what to do and many companies offer eco-tours.
They are not all of the same value I would say but these excursions are very regulated and a lot of things have been put in place for the environment and the animals.
Among the popular eco tours there is:
Swimming with whale sharks
Day trip to Espiritu Santo island and snorkel with sea lions
Trip to San Rafaelito to swim with sea lions
These eco tours are all pretty pricey however there are a few differences depending on the companies.
Espiritu Santo island tour
We decided to do the day trip to the Espiritu Santo island because it is a UNESCO world heritage site and it has amazing biodiversity.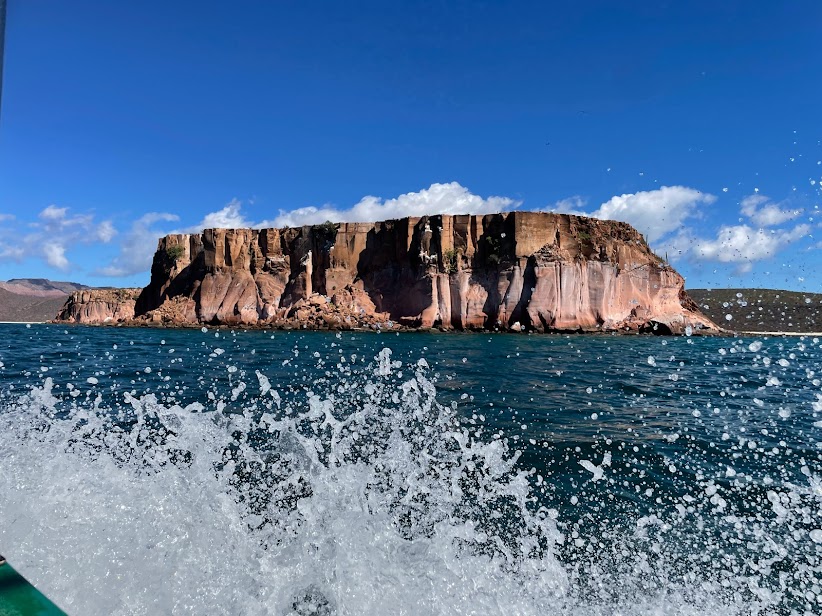 We did the tour with Alonso Tours because a lot of people recommended them, and they had a vegan option for lunch. We paid 85USD per adult and 65USD for our 6yo daughter.
It included lunch with drinks but not the tips for the guide and boat captain. We left 30USD.
So the total for us three was 265USD. It was a 7 hour day trip and we even got to see a whale on the way back.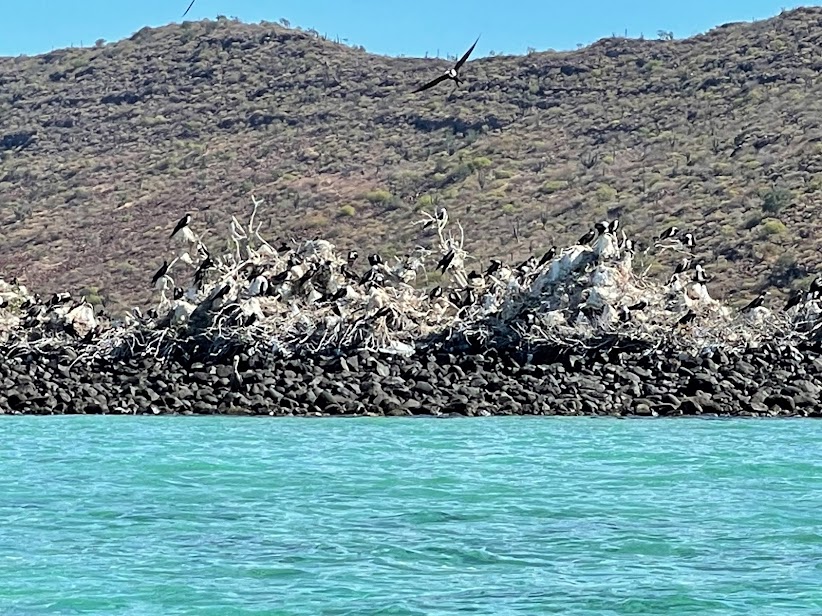 The guide was very knowledgeable and I felt that the welfare of the sea lions was important to him. He made sure we were not too close to the rocks and told us we were not allowed to touch them.
I'm the only one who went in the water with them. I had a young sea lion puppy just below me at one point, it was an incredible experience!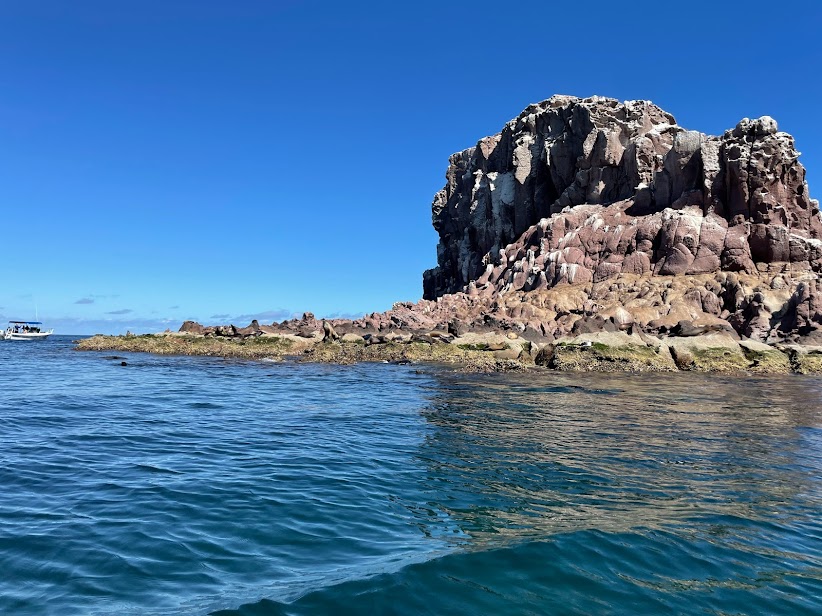 La Paz museums
Aside from the beaches in La Paz Mexico, there are also museums you can check out!
Whale and Marine Science Museum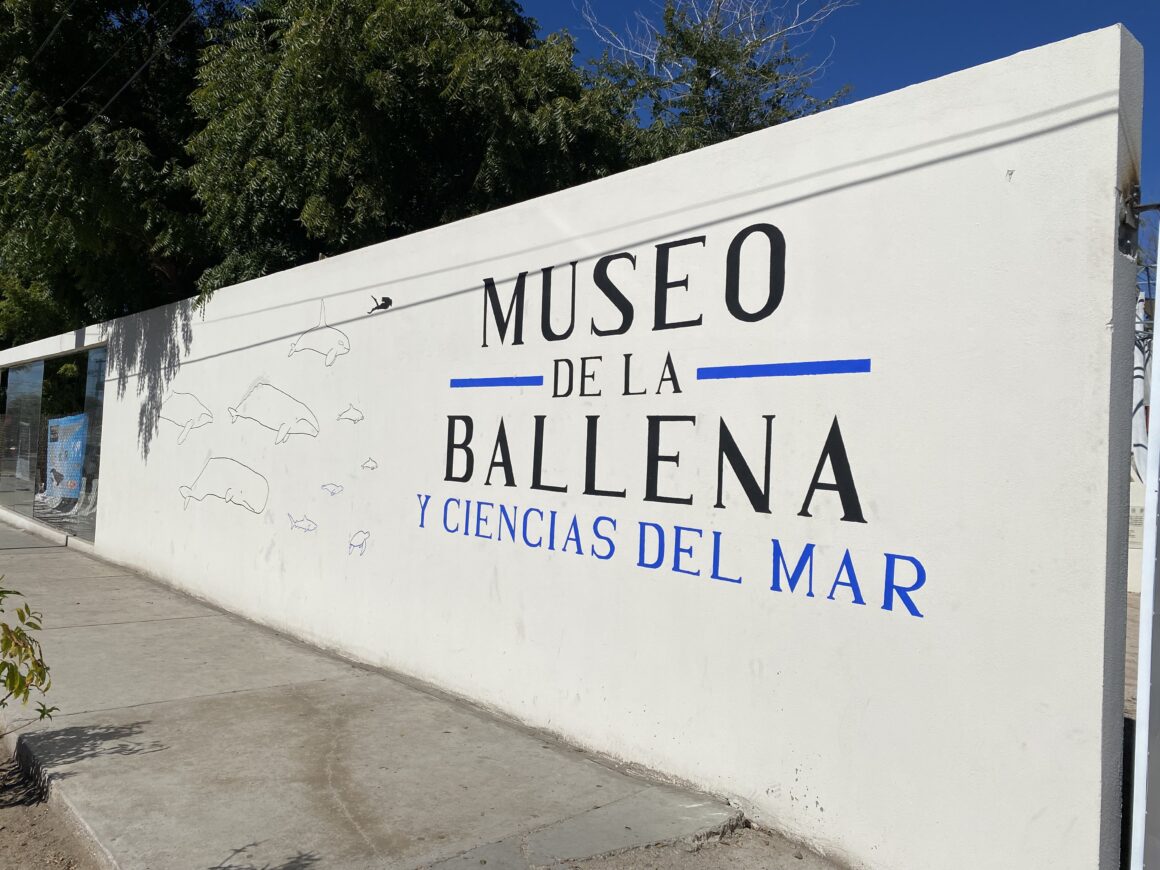 This whale and marine science museum is really interesting if you want to learn more about the marine mammals who live in the Baja California waters.
Open from 9am to 2pm from Monday to Saturday. It is run by volunteers and entrance fees are donation based.
Regional museum of Baja California Sur
This museum will interest you if you want to learn more about the history of this beautiful region and its first inhabitants.
Open from Monday to Sunday from 9am to 6pm.
Entrance fees : 65 pesos or about 3.25USD per adult and free for children under 13yo.
Going sand surfing in La Paz Mexico
On the Mogote beach, it is possible to do some sand surfing on the nearby dunes. We didn't get the chance to do it but we heard it is a lot of fun !
You can book the activity here.
Plan your trip to La Paz Mexico
Where to stay in La Paz?
Campestre Maranatha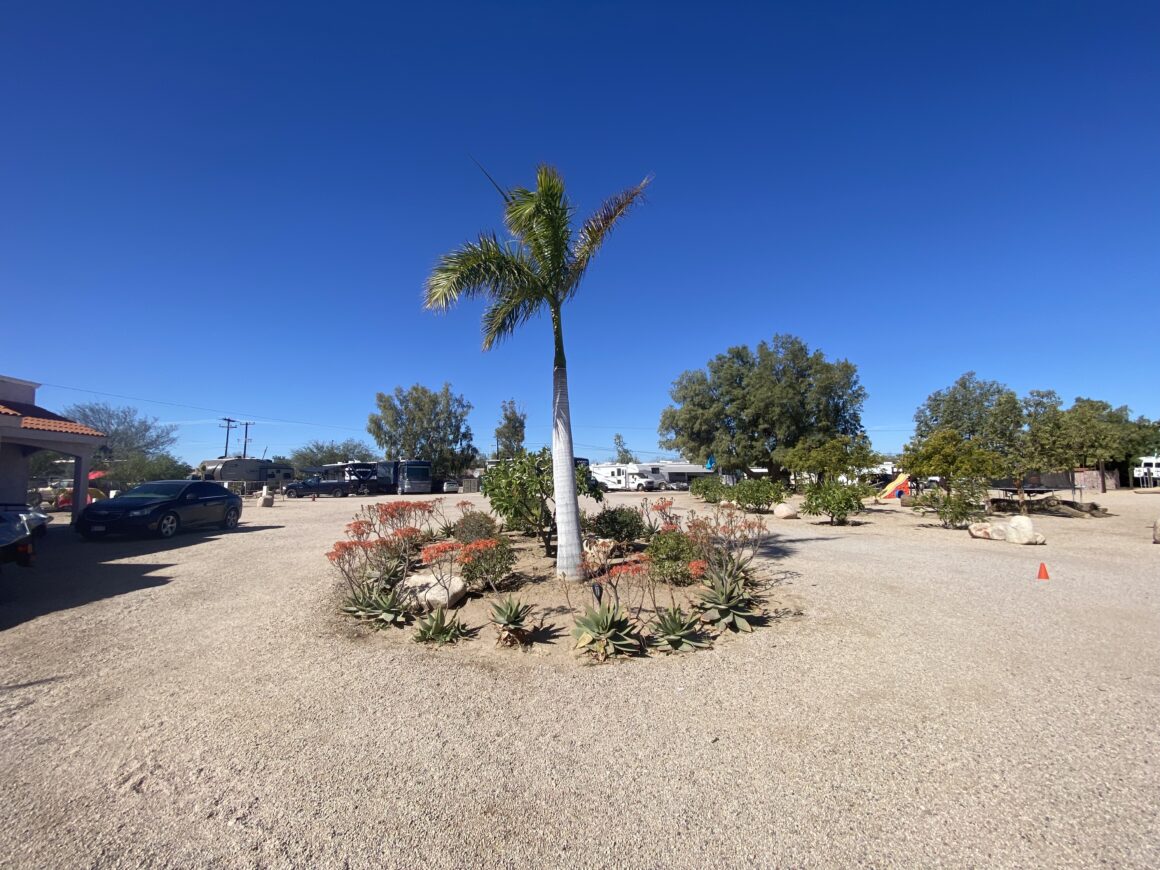 We travelled to La Paz in our RV so we stayed in the only campground there which is located just outside of the city.
We really loved this campground with beautiful landscaping and very well maintained. A peaceful heaven despite being close to the road.
Cost was 560 pesos per night (23USD) but for a 7 night stay there was a night free and 7 nights free for a month stay.
Hotels
Find flats, condos or hotels directly on Expedia.
Home Exchange
We wrote an article about Home Exchange in French and how great of an experience it was for us. You can check out their website to see if there are any houses available in La Paz!
Where to eat vegan in La Paz?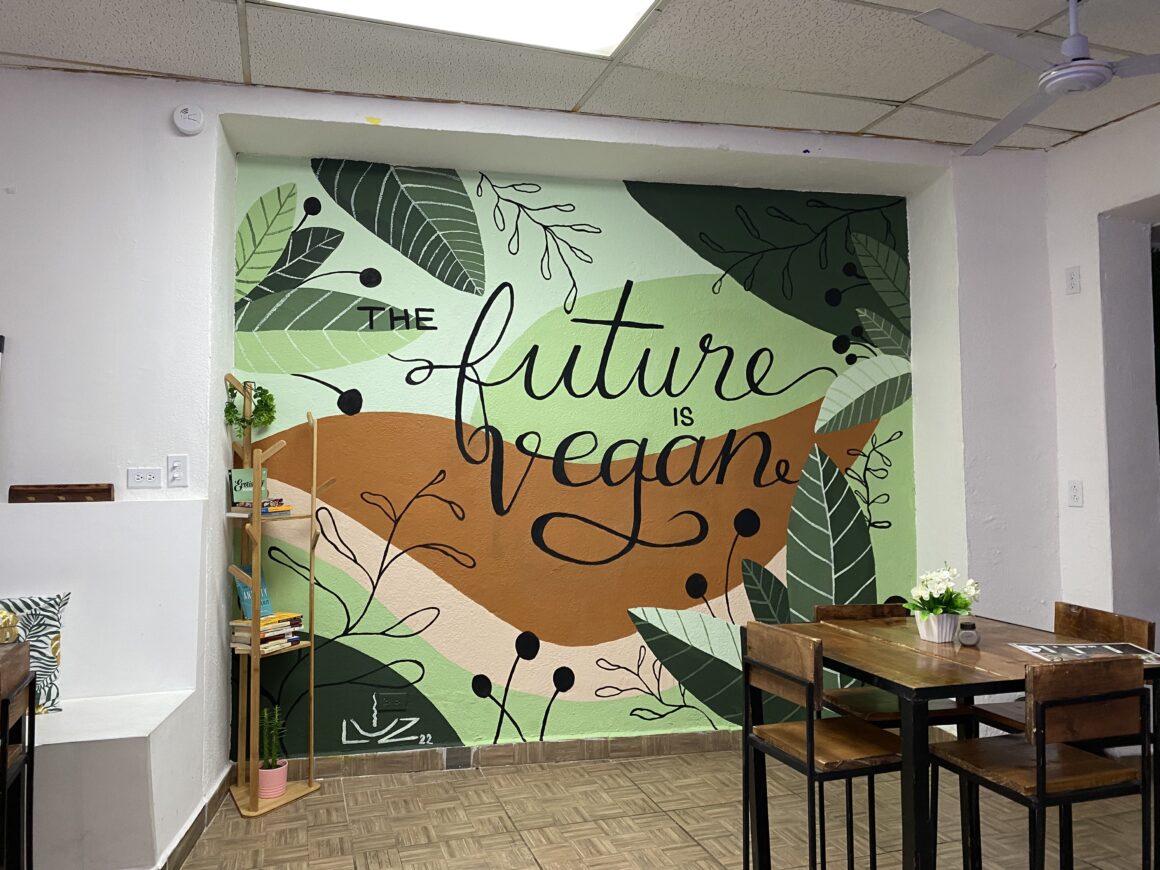 We were able to try many vegan restaurants during our stay in La Paz so we decided to include it here.
Gaia, comida vegana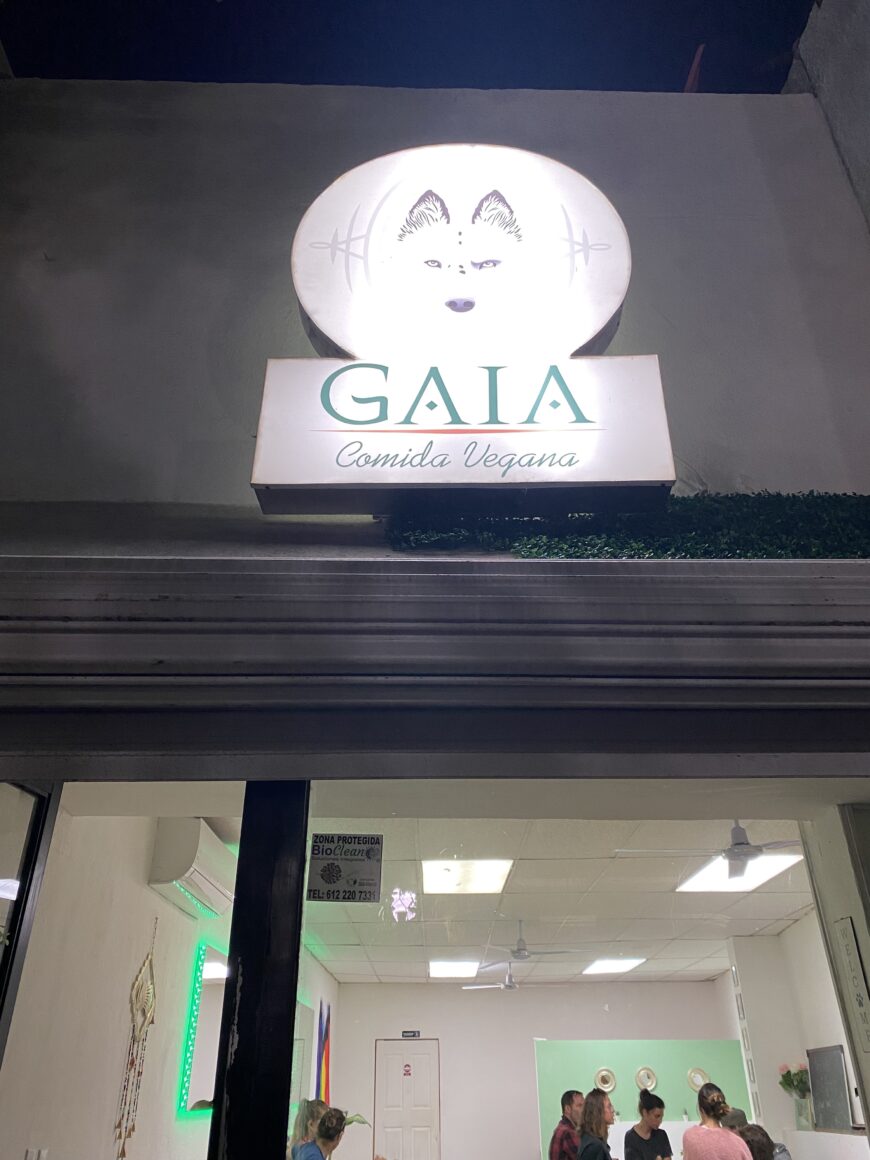 Our firm favourite in La Paz. 100% vegan restaurant with an incredible value for your money!
Traditional Mexican food, everything we tried was super good but our favourites were the tacos which were 30 pesos each (1.50USD) .
Planeta Veggie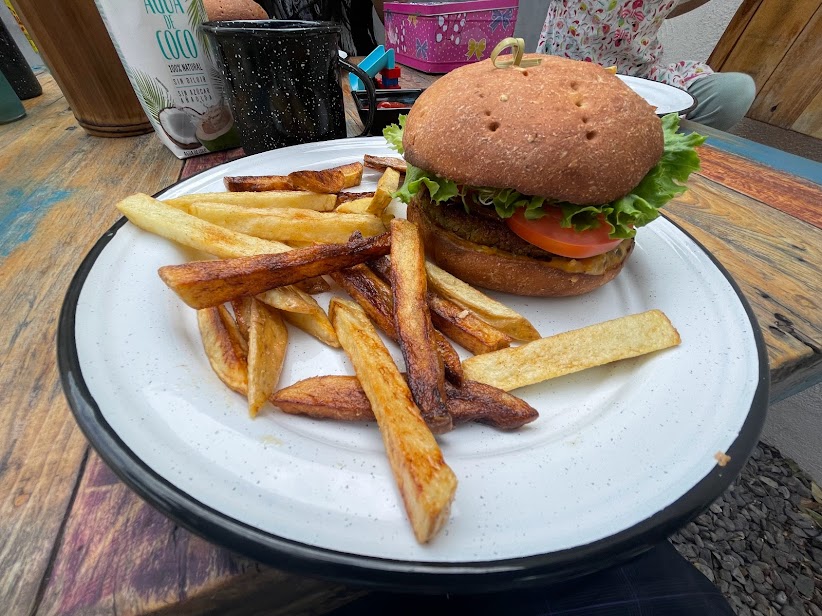 The first restaurant we went to in La Paz. It is owned by a lovely vegan couple.
Not as traditional in terms of food but super good too. They also have a small grocery section and zero waste too. They are 100% vegan too.
Capuchino Café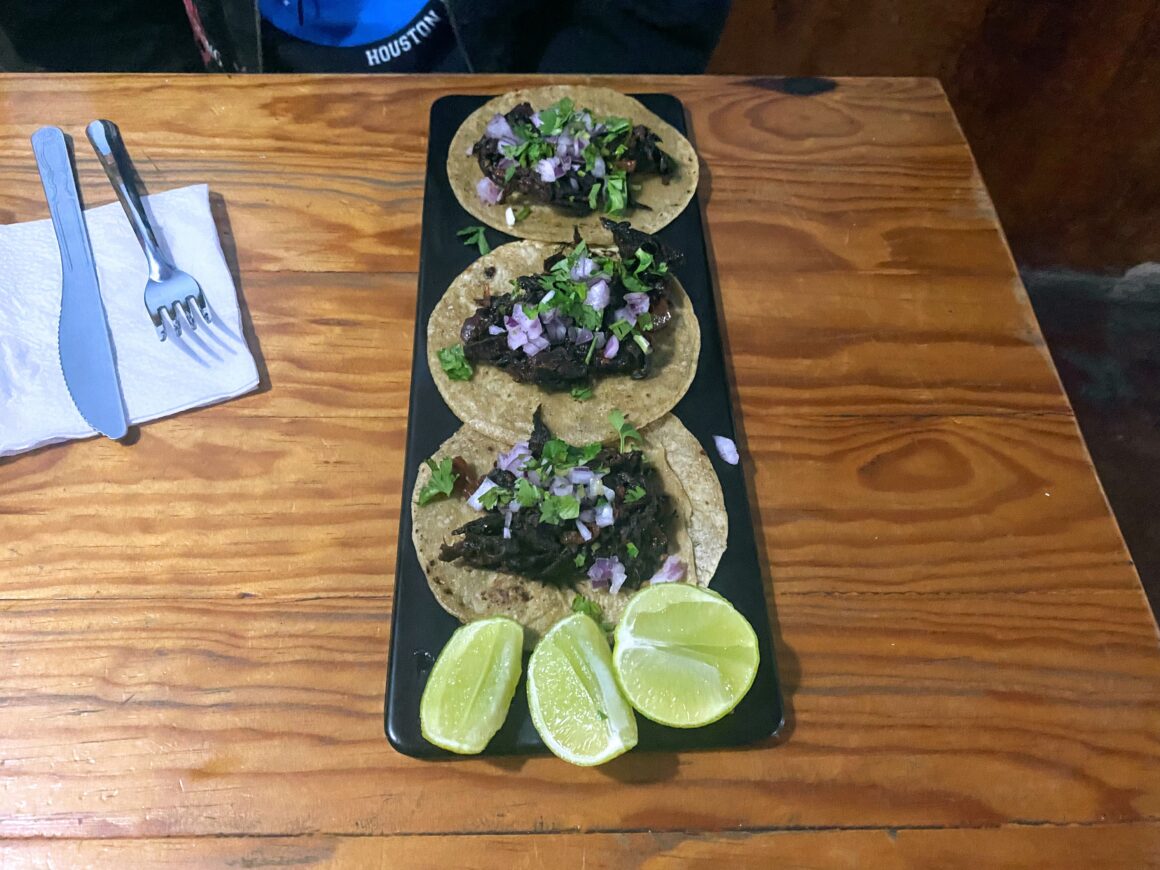 Vegetarian restaurant with a large vegan selection. Their homemade lemonades were really good.
Mainly traditional Mexican food. Every day there's a special discount on a specific dish.
La Masa Panadería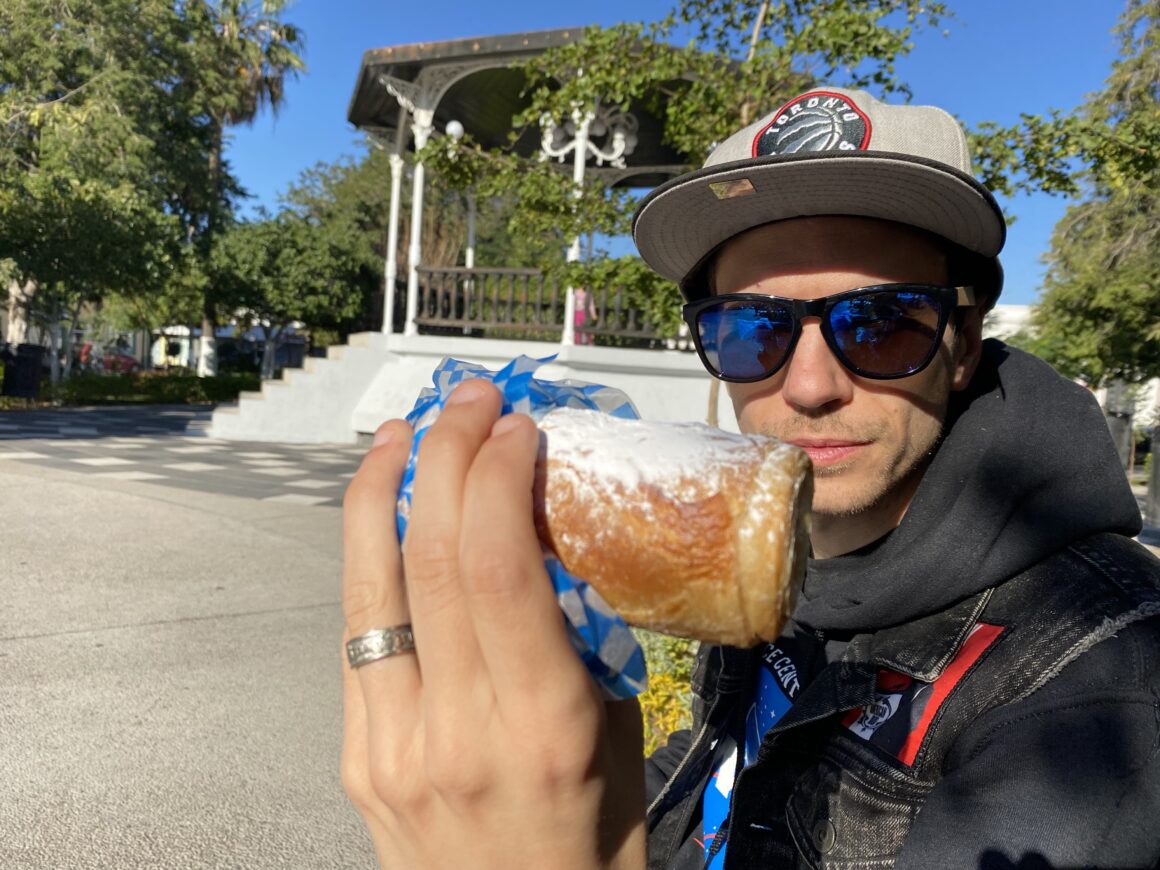 A spot we were anxious to try and we were not disappointed!
There are 3 or 4 vegan options depending on the day. The favourite for me was their "chocolatin" similar to a "pain au chocolat" that we used to eat in France. SO DELICIOUS.
There was also an apple struddel and another pastry with caramelised pecans, both very good too.
Other vegan restaurants we didn't try
Veggie Club
Just opened when we were there, they offer vegan quesadillas and also sell vegan cheese.
Mango Blues
A restaurant we wanted to go to but when we got there we were welcome by a "only take away tonight" which left us disheartened so we went to Capuchino Café instead. However they are 100% vegan and very well rated on Google.
La Baie Market
They have a stall on the Malecón market on Sundays. They sell many sweet items such as stuffed croissants, cookies, cakes, bread and even plant based butter.
Buying groceries in La Paz
Farmer's market
I was so looking forward to go to this market when I researched. I went every Tuesday and Saturday for the duration of our stay.
The fruits and veggie stall is amazing, so much freshness, organic produced and good prices! They sold the best avocados we've ever had.
The owners were also super nice and speak fluent English if you don't speak Spanish. We highly recommend to get your produce from them. It was my favourite spot at the market.
Another of our favourite stalls was productos organicos Luigi. Luigi sells plant based products such as chorizo, ham, cheeses and sometimes milks.
Our favourite was the chorizo which we used to eat on our pizzas and in our tacos. We loved it so much we bought four of them to freeze when we left La Paz.
You can also get cinnamon rolls and other vegan food at the Dolce Verona stall. They also had local specialties made vegan such as the Roscón de Reyes (brioche type cake for the wise king celebration).
Chedraui Selecto Colima
Quite high end supermarket compared to other chains. There's a good section of organic groceries.
We also found vegan cheese from Violife and they have plant based milks too of different brands.
They have a bakery area with really nice bread too.
Address: Colima S/N, entre Mariano Abasolo y Francisco I. Madero, Pueblo Nuevo, 23093 La Paz, B.C.S.
Walmart
It's the only Walmart in Baja. You can find some American brands there, there's organic bananas and also organic plant based milk and some other basic grocery items.
Address: Blvd. Gral. Agustín Olachea, El Zacatal, 23088 La Paz, B.C.S.
Buying souvenirs in La Paz Mexico
There's many souvenirs stores and it's sometimes difficult to know where to buy good quality souvenirs that are made locally. We've made a list of three boutiques we bought souvenirs from:
Casa del Artesano Sudcaliforniano
Located on the Malecón. Souvenirs store with local artists and crafters with different material such as wood or shells. Among other things, there are magnets, jewellery, clothes and soaps.
Address: Paseo Álvaro Obregón, Zona Central, 23000 La Paz, B.C.S.
Caktu souvenirs
Located in our favourite neighbourhood, you can find souvenirs with modern and cool design and of good quality. You'll find t-shirts, postcards (impossible to find elsewhere), magnets and jewellery.
Address: Belisario Domínguez 1290, Zona Central, 23000 La Paz, B.C.S.
Casa Parra
Souvenirs store of Mexican arts and crafts. It's quite pricey but there are really pretty things and it's nice to wander around even if not buying anything!
Address: Independencia 413, Zona Comercial, 23000 La Paz, B.C.S.
How to get to La Paz Mexico?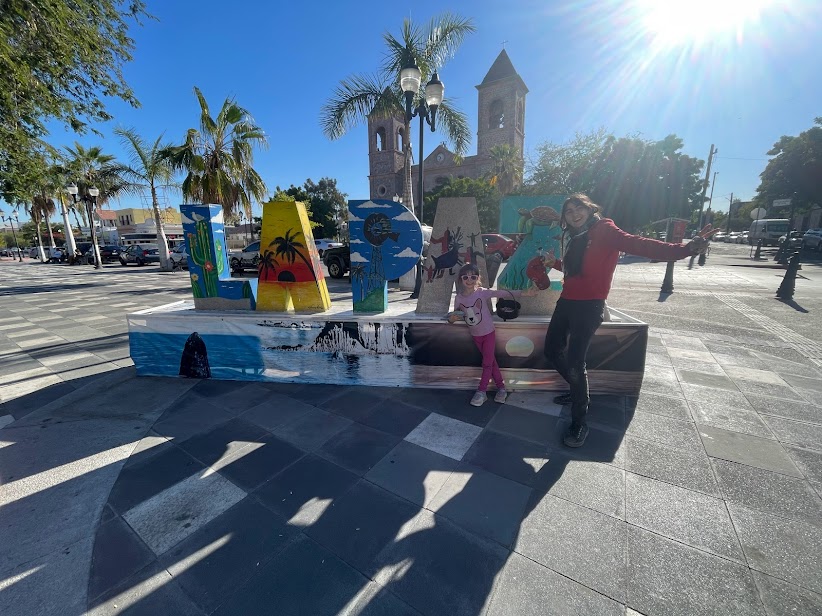 There's an airport in La Paz so you can get there by plane.
You could also drive all the way to La Paz with a car or with your RV.
If you're travelling with an RV, you should cross the border at Mexicali II which has higher clearance. We did several stops before getting to La Paz such as San Felipe, Guerrero Negro and Loreto.
When's the best time to go to La Paz Mexico?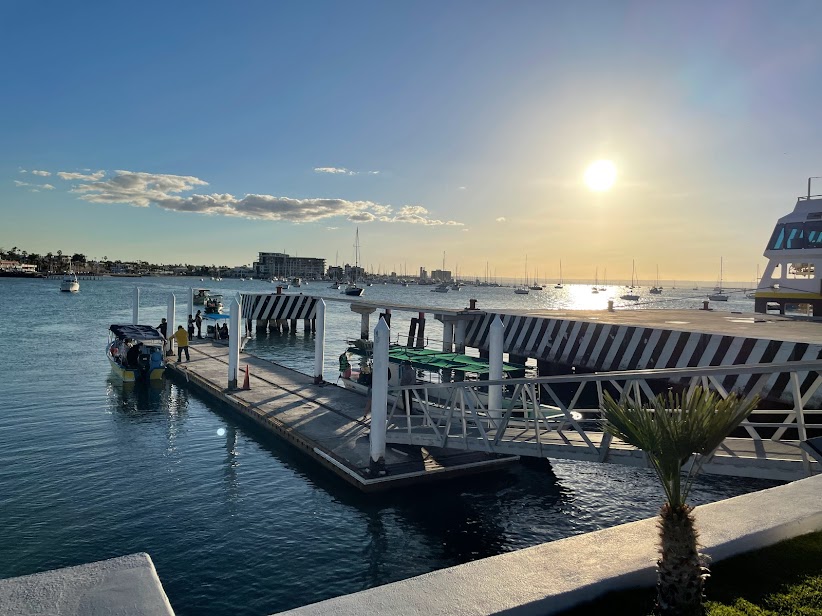 We went there from mid December to beginning of February. It seemed to be high season there for tourists from abroad because it gets really hot in summer. However we didn't find it was too crowded.
At this time of year, the sea temperature was not that warm between 67 and 70ºF.
Between October and December seems to be less busy and outside and water temperatures will definitely be higher!