This winter, we spent over 2 months in Mexico and we thought it could be useful to make a list of the different RV parks in Baja that we stayed at. A few months ago, we did the same with the best family campgrounds in Ontario and we loved making that list.
We were hesitant to go to Baja at first because we are travelling with a 35 foot travel trailer.
However we saw that a lot of people were doing it with even bigger rigs than ours so we gave it a go.
Camping in Mexico is truly awesome and we actually found many RV parks in Baja California that were able to accommodate our size!
Please note rates are correct as of Winter 2022-2023. We will update if anything changes.
List of RV parks in Baja Mexico
This list is in geographical order from north to south.
Sea Hotel & Victor's RV park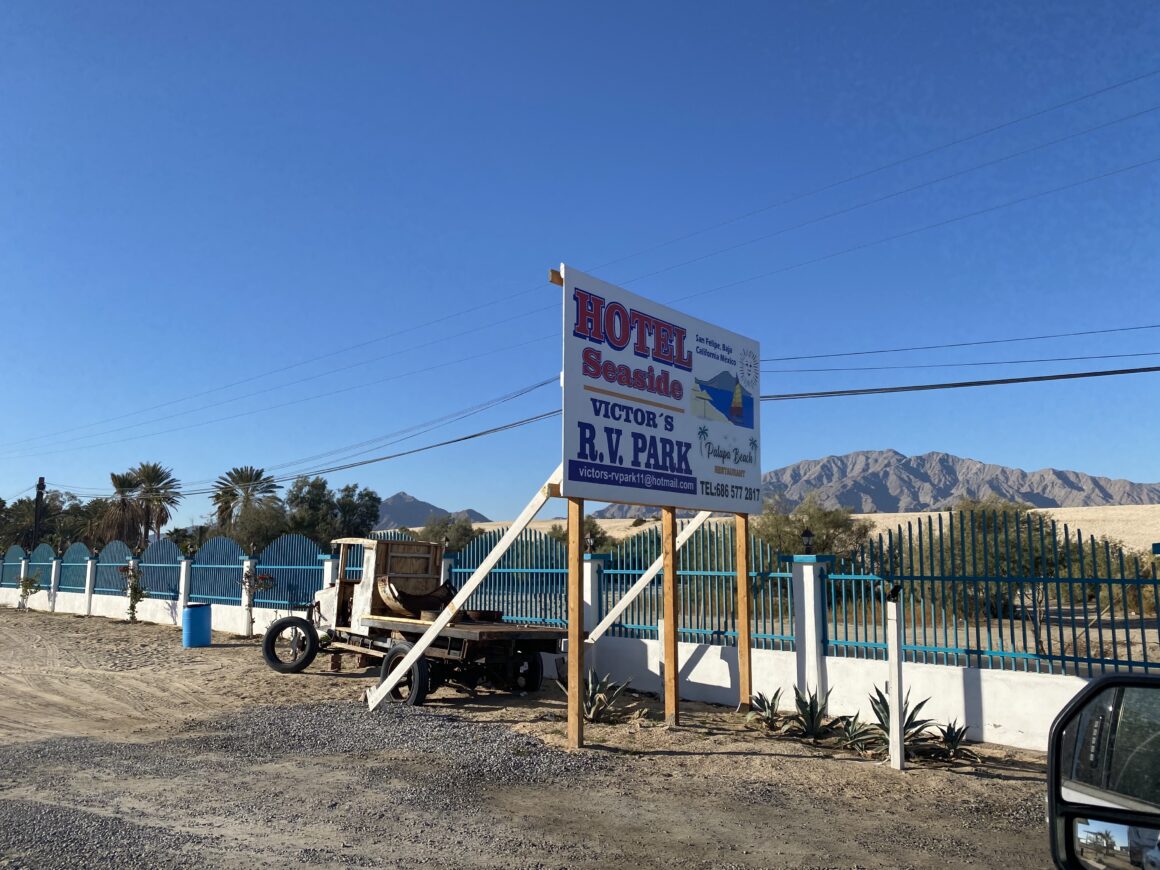 Location: In San Felipe, about 15 minutes walk from the "Malecon"
Address: Av. Mar de Cortes Sur, Mar de Cortés, 21850 San Felípe, B.C.
Date of our stay: December 2022 for 1 week – February 2023 for 5 nights
There are a few camping RV parks in and around San Felipe in Baja. However we chose Sea Side Hotel &Victor's RV park because most of the blogs we read on Baja advised on this one and that it was big rig friendly. It also had good reviews on Google.
The main reason we stopped in San Felipe is because it was just over 2 hour drive from the border.
As you can see on the pictures it's mainly sand/dust road inside this RV park in Baja and the sites we were on were not completely level but it was fine.
Amenities
Full hookups available, washrooms, showers, 30 or 50 amps electricity, dry camping also available. Close to the beach. No playground for children. No washing machines. Can accommodate big fifth wheels!
Rates
30 amps back row site, only option for big rigs – 35 US$/night
50 amps all types of sites – 50 US$/night
Dry camping – 25 US$/night
How to book and pay
The best way to book is to send a message via Whatsapp on +52 … To book you'll have to pay a deposit via Paypal or bank transfer (we chose the latter as we have a multi currency account). The rest has to be paid cash when you get there. Note that the second time around we were not asked for a deposit because they knew us I guess!
What we liked
It was just by the beach so it was perfect for children to play. It was also a short walk from the boardwalk (Malecón) and the town center either through the sidewalk or walking on the beach.
---
Mario's Restaurant | RV park Baja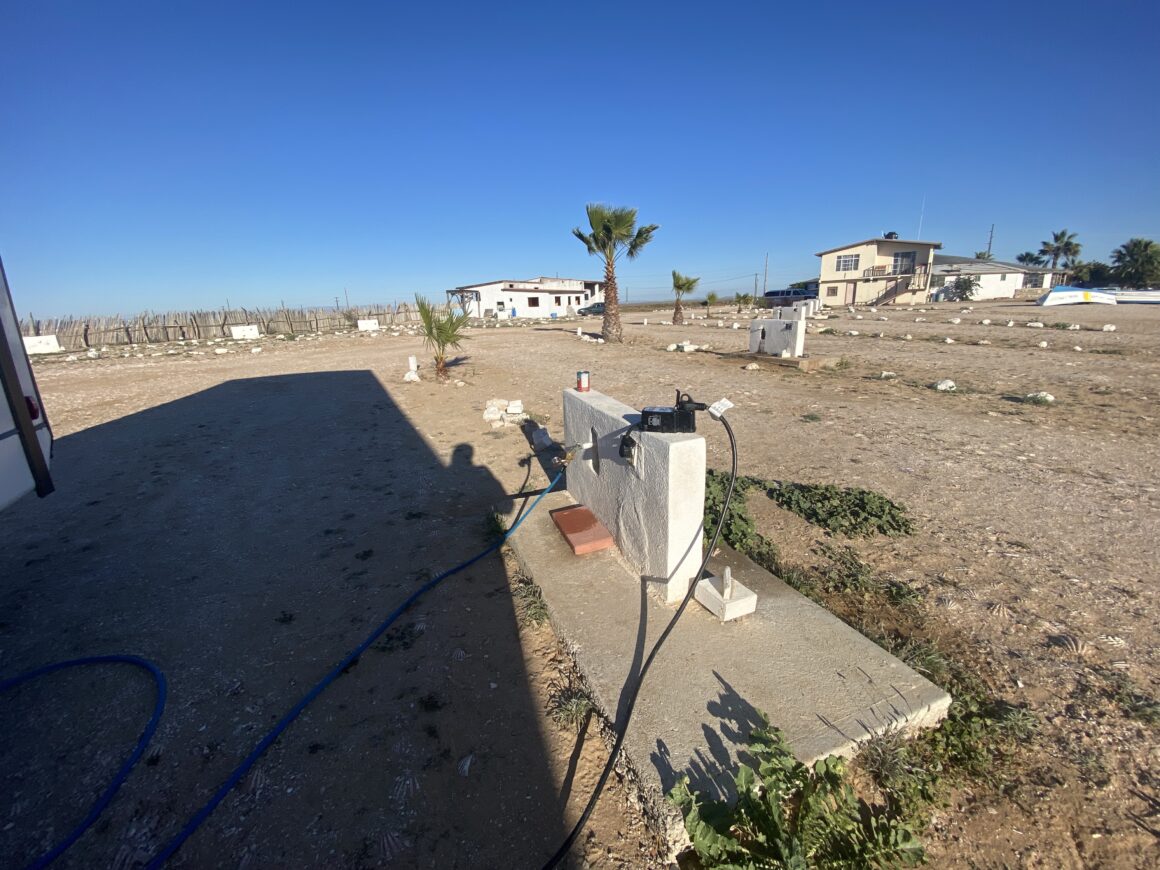 Location: Before entering Guerrero Negro, on the side of the highway – 5 minutes drive from town.
Address: Av. Mar de Cortes Sur, Mar de Cortés, 21850 San Felípe, B.C.
Date of our stay: December 2022 for 1 night
There's not too much choice in Guerrero Negro for big rigs. We heard mixed reviews but we decided to give it a go because it was for one night and we didn't want to go into town. Electricity was fine for that one night in December with only 4 other campers.
However we had a very different experience the second time around. There were lots of campers, about 10 or 15 and our surge protector kept shutting off electricity as there was not enough voltage. We tested all of the available spots but couldn't find one that worked. We had to leave and went to Malarrimo (details below).
Amenities
Full hookups 30 amps, dry camping. Most of the sites are pull through.
Rates
300 pesos for full hookups, 150 pesos for dry camping
How to book and pay
We actually didn't book ahead of time since it was for one night and it's never full as it is just a one night stop for most people. They have many sites and there were only about 4 rigs when we stayed there. We payed cash.
What we liked
How easy it was to get in and out and be on our way super fast the next day!
Caution: as stated above electricity can be an issue at this RV park. Make sure you have surge protector with you. Also some spigots were missing so be sure to check the site before pulling in.
---
Malarrimo Hotel Restaurante Bar | RV parks in Baja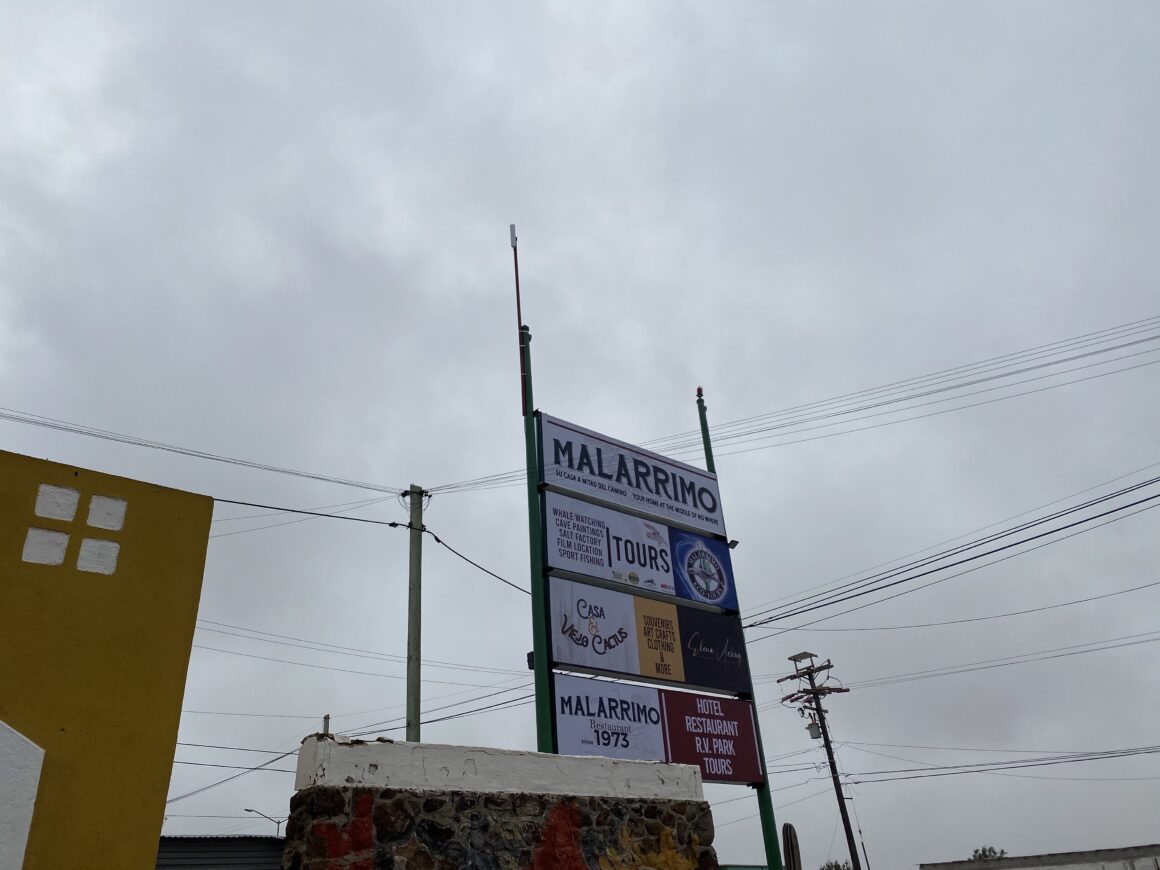 Location: In Guerrero Negro but not far from the entrance of the town
Address: Emiliano Zapata 75, Loma Bonita, 23940 Guerrero Negro, B.C.S.
Date of our stay: February 2023 for 2 nights
This hotel/RV park in Baja saved us! As we said above, we could not stay at Mario's and we found Malarrimo by looking at google. I drove there with just the car to check for space and then we headed there again with the travel trailer. It is not very wide but we managed to park. I would say that longer than 35ft would be tricky as you can see on the photo.
Amenities
Full hookups with supposedly 30amps however they are 15amps plugs so you'll need an adaptor.
We actually didn't have one and if it wasn't for the people parked next to us we wouldn't have been able to stay at this campground either!
Our surge protector also noticed a high voltage at night (when the restaurant was closed) so electricity was shut off several times during the night. It didn't happen during the day though.
Rates
It was 350 pesos for our size, might be cheaper for smaller RVs.
How to book and pay
We didn't book and we just turned up. If you call them you might be able to book. You can pay with cash or card which was great!
What we liked
It was closer to town than Mario's and electricity "more reliable" than Mario's at least during the day!
---
Villa Maria Isabel RV park | RV parks in Baja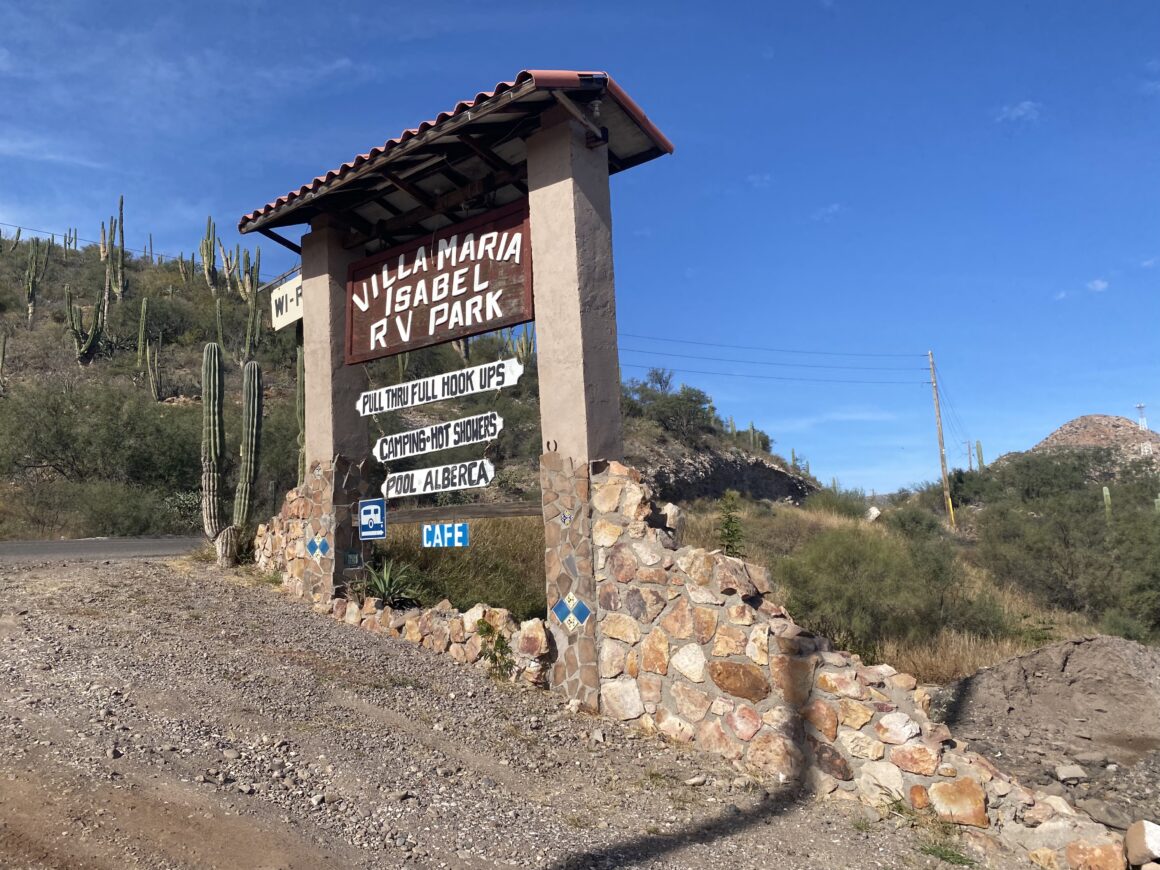 Location: Mulegé
Address: Carr. Transpeninsular km 134, 23900 Heroica Mulegé, B.C.S.
Date of our stay: February 2023 for 6 nights
Facebook
Mulegé is an oasis in the middle of the desert and we really enjoyed this RV park in Baja as it also felt like an oasis. The landscaping was great even though the sites were not very wide.
Amenities
Full hookups, 30 amps, dry camping. Hot showers (we didn't use them) and laundry which is just one big washing machine and costs 50 pesos per load. The building needs a bit of maintenance but the washing machine was in good state and worked well.
Rates
We paid 400 pesos per night because we stayed 6 nights.
How to book and pay
I called and booked ahead of time (+52 615 153 0246)
No deposits required. We paid cash on arrival. A lot of people just turned up and there was still space. There were a few people long term but it was mostly transient for one night.
What we liked
It was really quiet despite being not far from the road, probably the most quiet of all the RV parks! It also had beautiful views on the surrounding mountains.
---
Loreto Shores | RV parks in Baja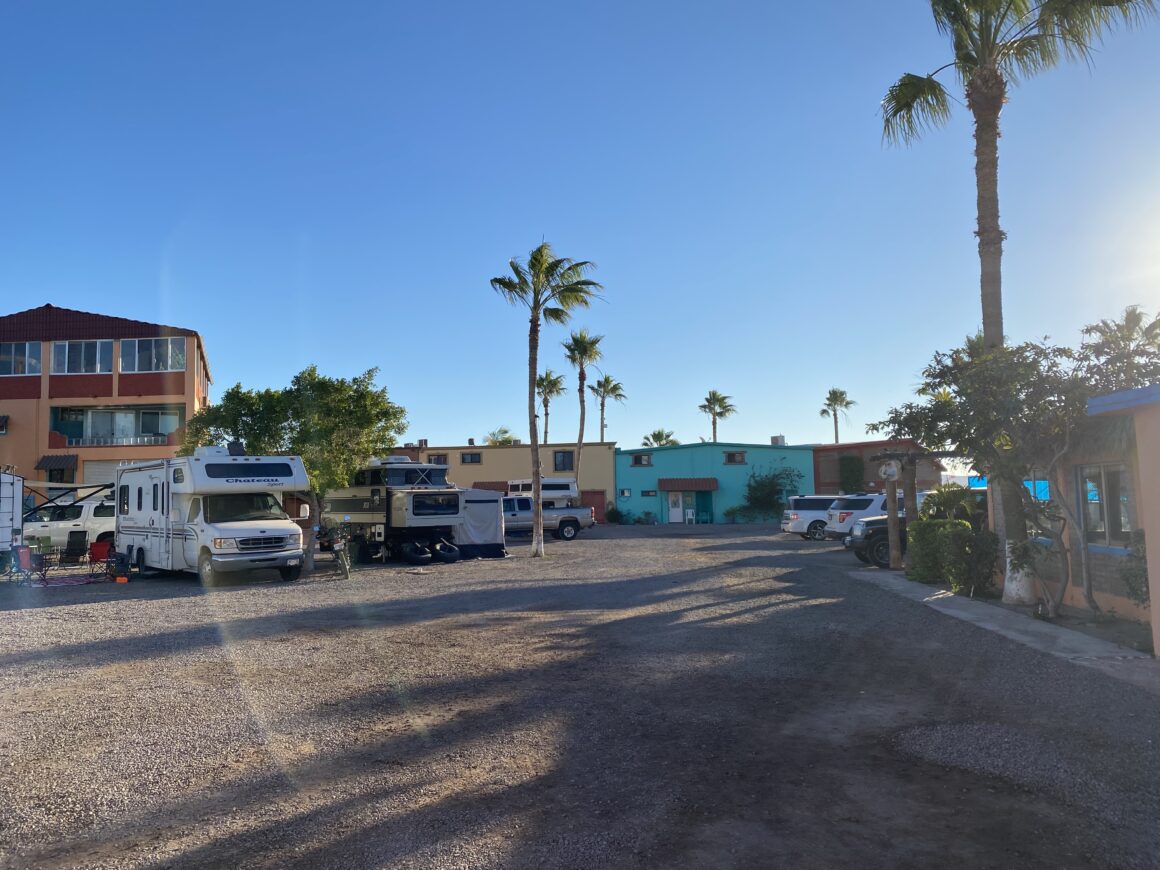 Location: Loreto
Address: Prol Ignacio Zaragoza, Zaragoza, 23880 Loreto, B.C.S.
Date of our stay: December 2022 for 3 nights, February 2023 for 7 nights
Not the most centrally located of the RV parks in Loreto but it's the only one that can accommodate really big rigs comfortably. It's 5 minutes by car to the town center.
Amenities
Full hookups 30 amps, swimming pool, laundry (several washing machines and dryers, US dollars only), restrooms
Rates
We paid 580 pesos/night for full hookups, one night free for a 7 day stay.
How to book and pay
We emailed [email protected] and since they aren't that many spots for big rigs, we highly advise you to book ahead. They are pretty fast to get back to you which we appreciated. You can pay by card but night comes at 600 pesos if you do so.
What we liked
It was by the beach like in San Felipe and it was great for children to ride their bikes too.
---
Campestre Maranatha | RV parks in Baja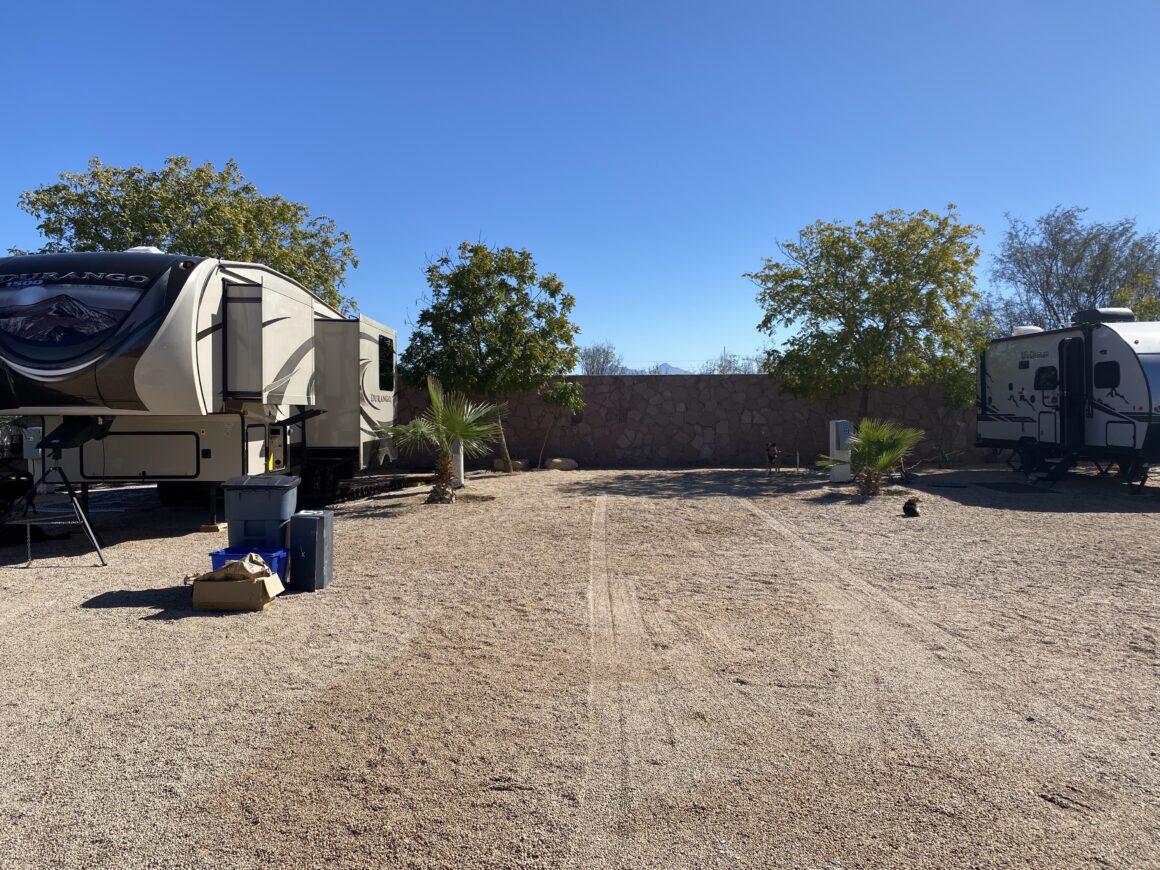 Location: Just outside La Paz in Colonia Chametla.
Address: Carretera Transpeninsular Km 11 Chametla, 23205 La Paz, B.C.S.
Date of our stay: December 2022 to February 2023 for 6 weeks
Facebook
The only campground in La Paz. It is very well maintained, a lot of care goes into it and the landscaping is beautiful. Can you tell I love this campground?
Amenities
LOTS. Full hookups, very big kid's playground with a trampoline, swimming-pool, tennis court, tennis table, fantastic laundry facility with clothing line to hang dry if you wish.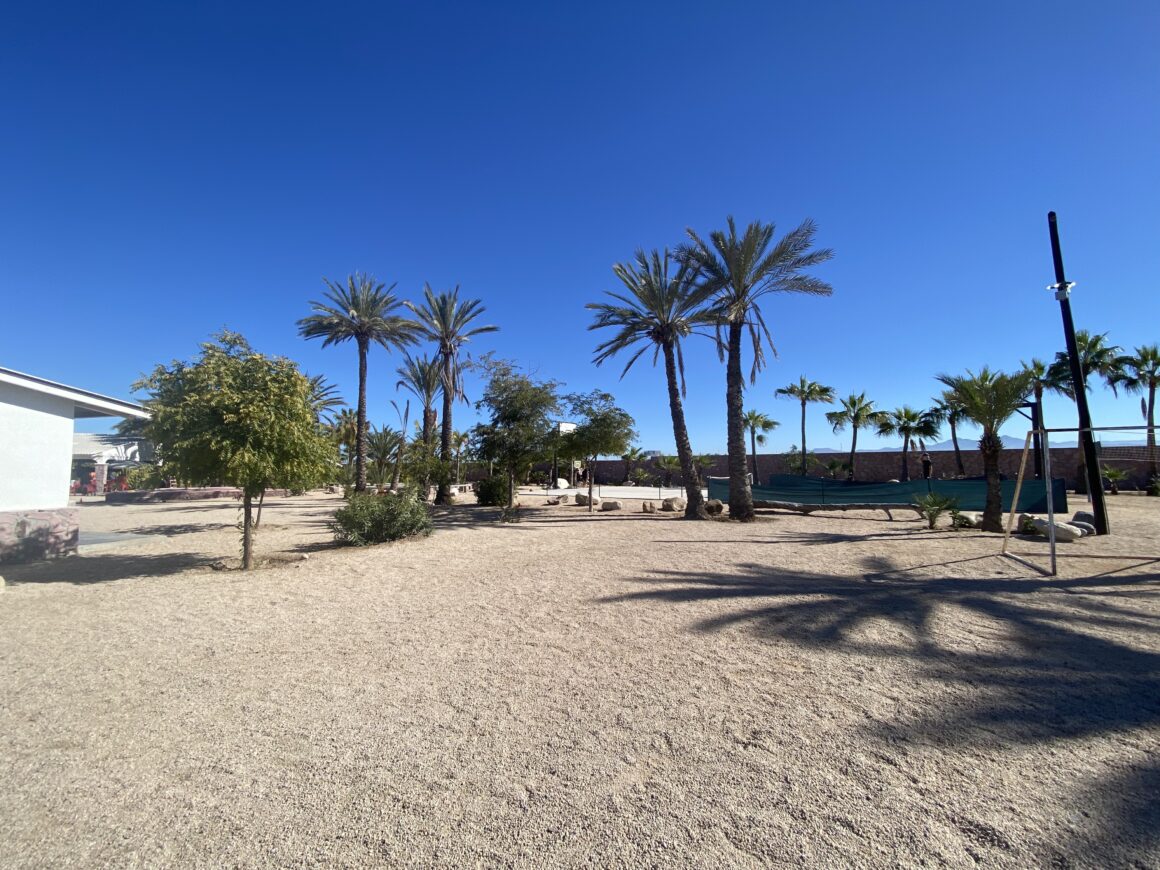 Rates
Full hookups 30amps: 560 pesos or US$28 per night
Full hookups 50 amps: 680 pesos or US$34 per night
Dry camping: $320 pesos or US$16 per night
1 night free for 1 week stay and 7 nights free for 1 month stay
How to book and pay
We contacted the campground at this email address: [email protected] . No deposits were required and we paid on arrival (cash only at the moment).
What we liked
The fact that it had so many amenities, it felt like a little village. There were lots and lots of families and events put on. Definitely our favourite!
---
Beach camping in Baja Mexico
If you have solar panels then you will love beach camping. We don't have any solar so we didn't get to experience it but there is many places where you can boondock straight on the beach.
We visited a few of these places with the car so we thought we would mention them here in case you might be interested.
Playa Santispac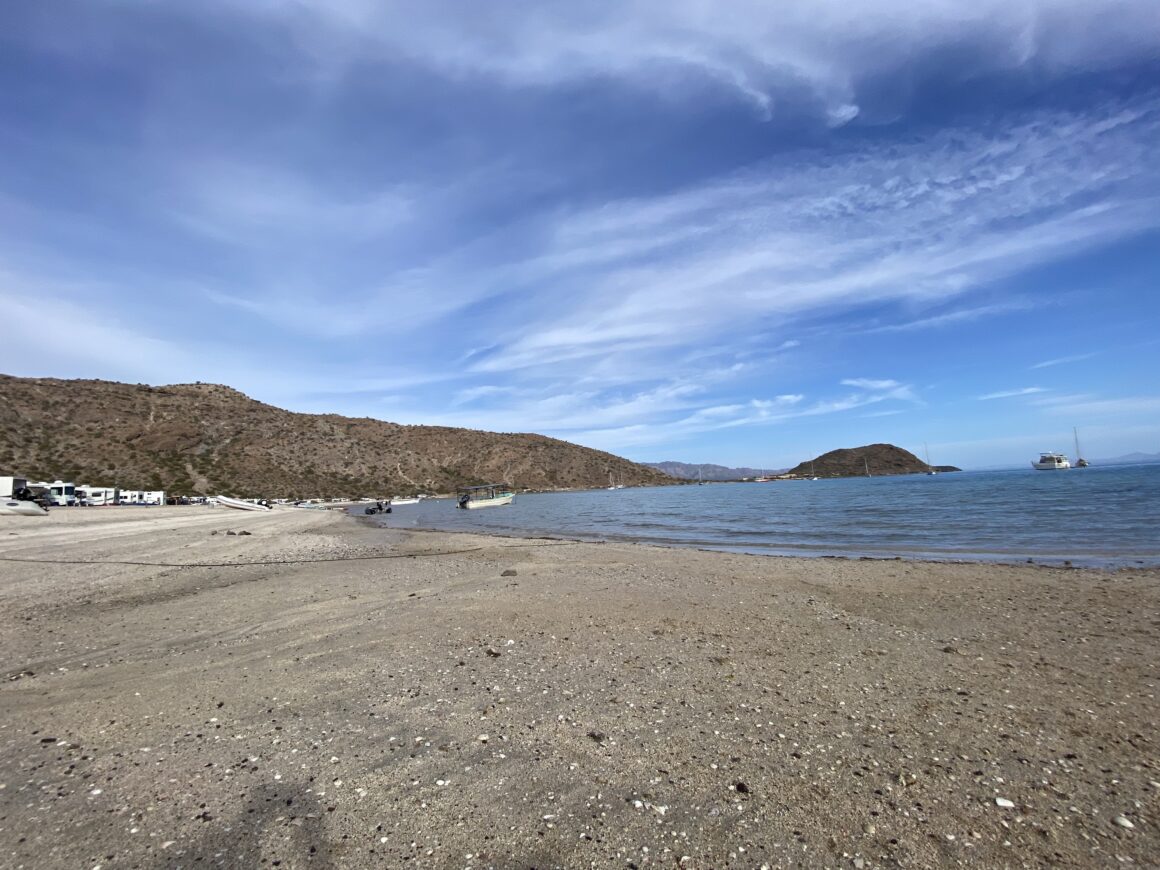 Location: Bahia de Concepción, about 15-20 minutes from Mulegé
Price: 200 pesos/night dry camping, no hookups. There are restrooms but from what we read they are not very clean.
The beach is very wide and you'll find all types of RVs there from the small truck camper to the big fifth wheels and class A's. It can get very busy so finding a spot will vary on the days and you can't book ahead.
It is first come first serve and you are right on the beach with the water in front of you.
Playa Requesón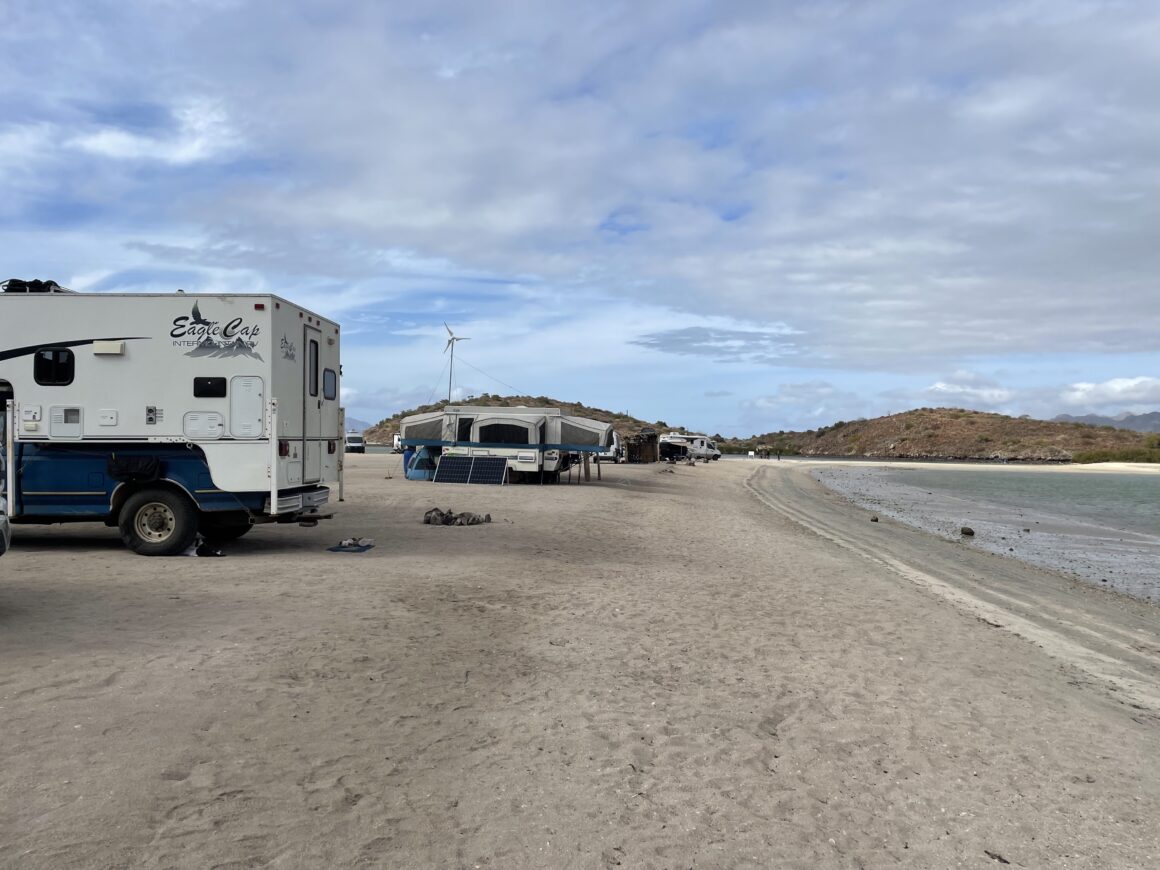 Location: Bahia de Concepción, about 35-40 minutes from Mulegé
Price: we only paid a few pesos because we were there an hour with our car but it's probably about the same price as Santispac. Dry camping as well.
The beach is smaller than Santispac but it is an incredible spot even though it was very windy when we went. There are mangrove forests and lots of birds. A true beauty!
Playa El Tecolote
This beach is located north of La Paz and is about 35 minutes from the center.
We didn't go but we know it is a very popular place to boondock near La Paz and can accomodate big rigs.
Cerritos Beach
If you'd rather spend time in the west coast of Baja California Sur, Cerritos beach is a popular place to boondock and has enough space for big rigs!
---
Are you on Pinterest? If so pin this for later!