In this blog post, we'll talk about our travel trailer. We haven't done a full presentation but we've made a big change in it that needs to be talked about: buying an organic RV mattress.
It's been several years now that we are careful with what we buy and we choose brands that match our values above all when we buy something new.
Buying an organic RV mattress was a no brainer for us when we got the travel trailer. We'll explain to you the reasons why we didn't keep the original RV mattresses and we'll present the brand we went for with a lovely discount for you!
Cet article contient des liens affiliés. Si vous faites un achat en passant par un de ces liens, il se peut que nous recevions une petite commission sans frais supplémentaires pour vous. Cela participe à soutenir notre activité sur ce blog. Un grand merci d'avance.
Why change your RV mattress?
For comfort
If you've slept in an RV before, you'll know that the mattresses are not the most comfortable. Theses mattresses are generally not very thick compared to standard mattresses. And if you're going to be sleeping in your RV a lot then you need to be comfortable!
To sleep on a new unused mattress
If you're buying a used RV, it'll be a lot better to sleep on a new mattress and not take any risks for your health (like bed bugs or mold for example) above all if the mattress is very old.
In our case, the RV was new but for comfort reasons and also for health reasons, we decided to change it to an organic RV mattress.
Why choose an organic RV mattress?
For our health
RV mattresses as well as normal mattresses generally have a lot of chemical products in them.
It is not easy to know what has been used and where it's from. When you open a new mattress, there's usually a strong smell. In addition to that smell, there are generally VOC (volatile organic compounds) which pollute the air inside your home or RV.
These VOCs can include formaldehyde, toluene and benzene among others. These products are known to be carcinogenic. Since our RV was new, mattresses were too so we didn't hesitate for long.
We did keep the original mattress in case we sell the RV in the future and not to throw something that was new.
For the planet
The chemical products that are used to make mattresses are not only harmful for our health but also for the environment.
Conventional mattresses also use non organic cotton which needs more water and is also full of pesticides which pollute the soil.
The other raw materials are generally not very natural and are derived from petroleum.
Our choice: organic RV mattress from bleu éco
We had already tested the organic RV mattress from Bleu Eco in our previous RV. At the time we got the Simple version as well as the Opale pillows.
We were very happy with the mattress and the pillows that we still have. So when we returned to RV life and bought a new RV, it was the obvious choice to order from them again!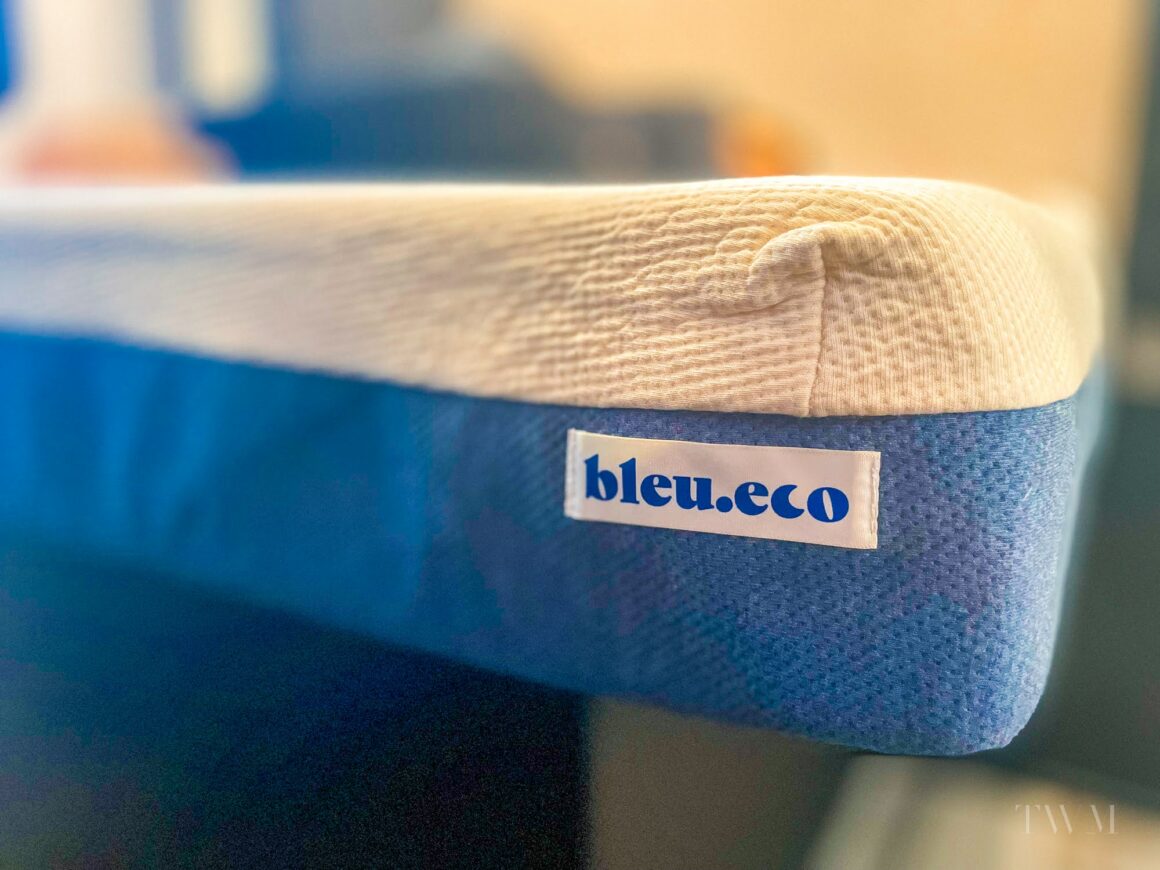 What we love with Bleu éco
CertiPUR-US certified eco friendly foams
Composed largely of natural oils from renewable resources
100% organic cotton cover (free from pesticides)
Ethical, Vegan and carbon-neutral
Made in Québec (support local and Canadian)
3 trees planted for each mattress sold
Which organic RV mattress to choose from Bleu éco?
For your RV you'll have to choose the Nomad RV model. Then you can choose the size of the mattress that you want. It's a really great option because all RVs don't have the same size of mattresses above al the bunk beds!
When you order, you'll have 6 width options: from 76cm (30in) to 198cm (78in) and 3 options for length: 183, 190 and 200cm (72in, 75in, 79in).
The different mattress layers are as followed:
2 inches of hybrid foam (comfort layer)
2 inches of high density foam (transition layer)
2 inches of high density foam (backing layer)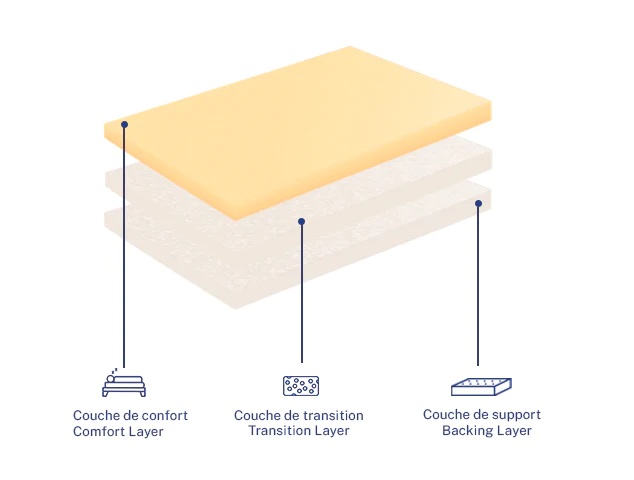 Bleu éco also sells mattresses for normal beds, wooden bed bases and also bedding. des sommiers en bois ou encore de la literie. Feel free to check out their website to see all they have to offer.
What does the mattress look like?
The mattresses arrive rolled up and vacuum packed in a cardboard box. We removed the cardboard outside and then opened the wrap inside. The shape comes up quickly once opened!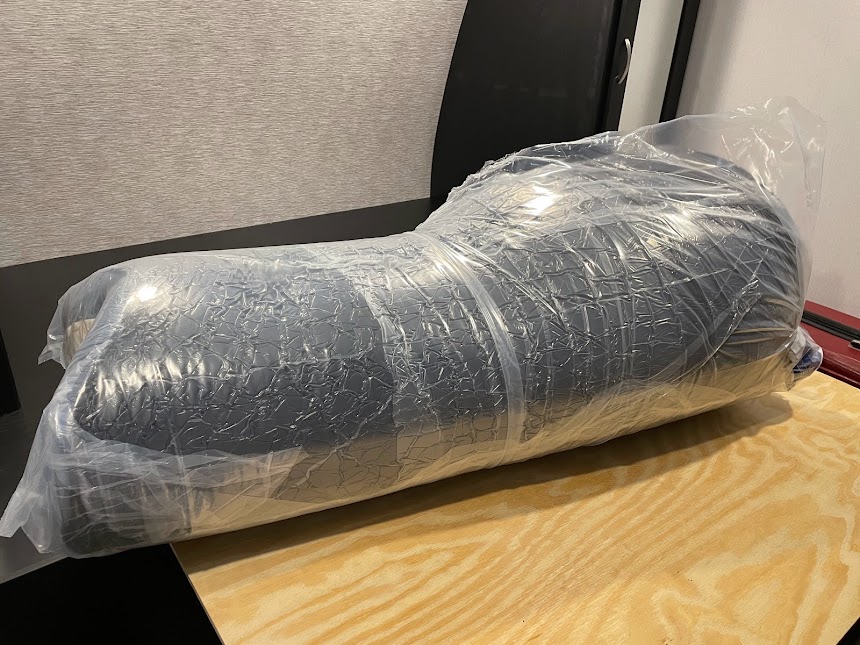 The little extras:
Free and fast shipping (Quebec, Ontario) – contact them for other provinces
Amazing Customer Service
Prices and buying options
The Nomad RV mattress starts at $599 for a mattress size 76x190cm (30x75in). It may seem expensive above all comparing it to the prices of conventional mattresses which use chemicals and pollutants.
However health is more important for us and when you think at the quality of the mattresses these are not that expensive. Also RV mattresses can be super pricey!
Financing
If it is a big investment for you, Bleu éco offers 3 financing options: Flexiti, Affirm and GlobalPayments. You can choose the option at the time of check out. Everything is explained on their website if you wish to do so.
Discount code
If you're interested in buying a mattress, you can use our discount code TOGETHERWEMEANDER to get 10% off on anything.
Clearance
Bleu éco also has a clearance warehouse in St Hyacinthe close to Montréal where you can find mattresses 50% to 70% cheaper than regular price. If you happen to travel in the area it might be a good idea to stop by!
---
We hope you found this blog post useful. If you have any questions regarding the mattress, feel free to leave us a comment!