We recently stayed in Acton in Ontario near Toronto and we wanted to take in the beautiful fall colours all around as we were too early at Pink Lake so we decided to go for a hike nearby. There are several conservations areas in the region but we chose the Silver Creek Conservation Area for our walk as it was the closest and it seemed like a great place to go.
Where is located the Silver Creek Conservation Area?
The Silver Creek Conservation Area is located in the region of Halton Hills about 70km west of Toronto and about 35km from Guelph. The exact address is: Fallbrook Trail &, Side Rd 27, Halton Hills and you can see where it is on the map below:
About Silver Creek Conservation Area
The whole conservation area is 1,086 acres and you can wander around mature forests and escarpment rocks.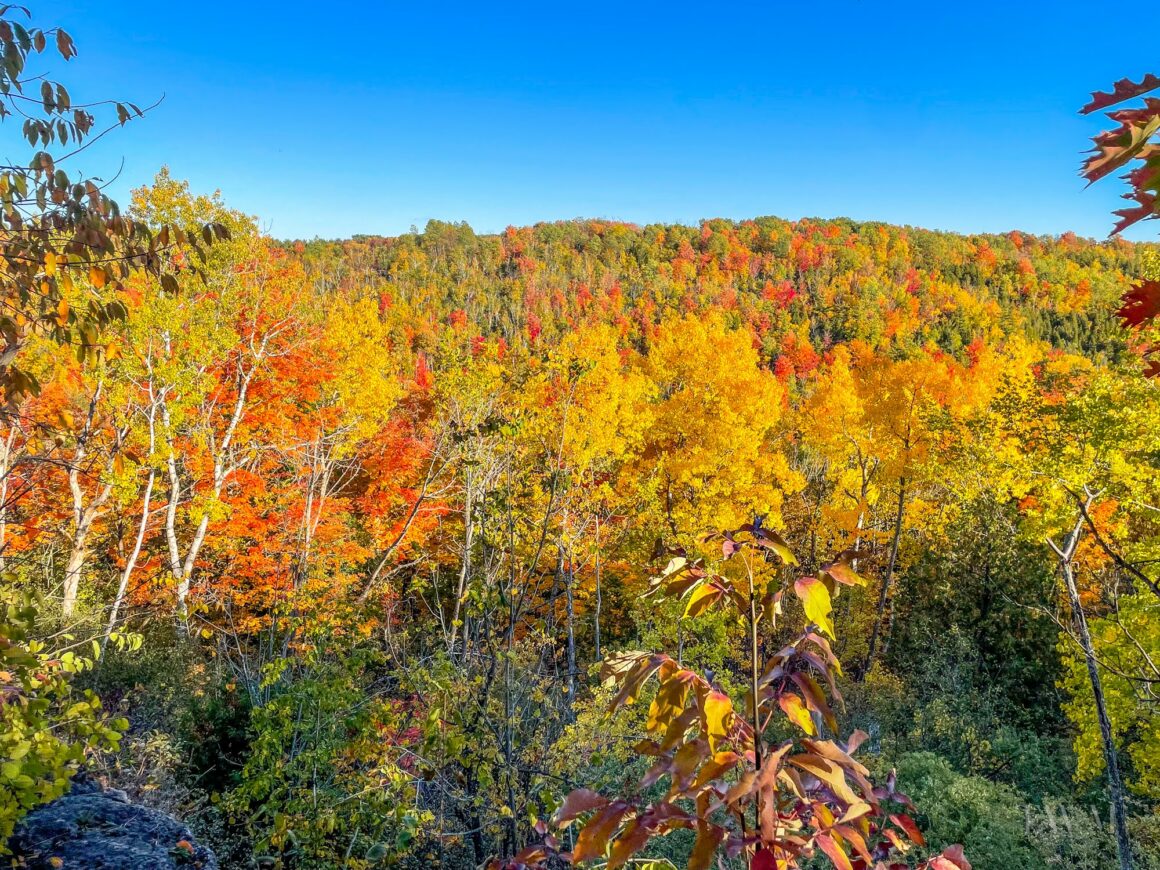 When to visit Silver Creek Conservation Area?
October is definitely a fantastic time to go but it will be crowded on weekends. If you can visit during the week it might be best. However we did visit during the weekend at peak hours (11am to 5pm) but we were still able to find a parking space when we arrived around 3:45pm. We actually had no clue it was so popular. It was pretty crowded but once we passed the first part of the trail where people take pictures of the fall colours by the pond, there were much less people.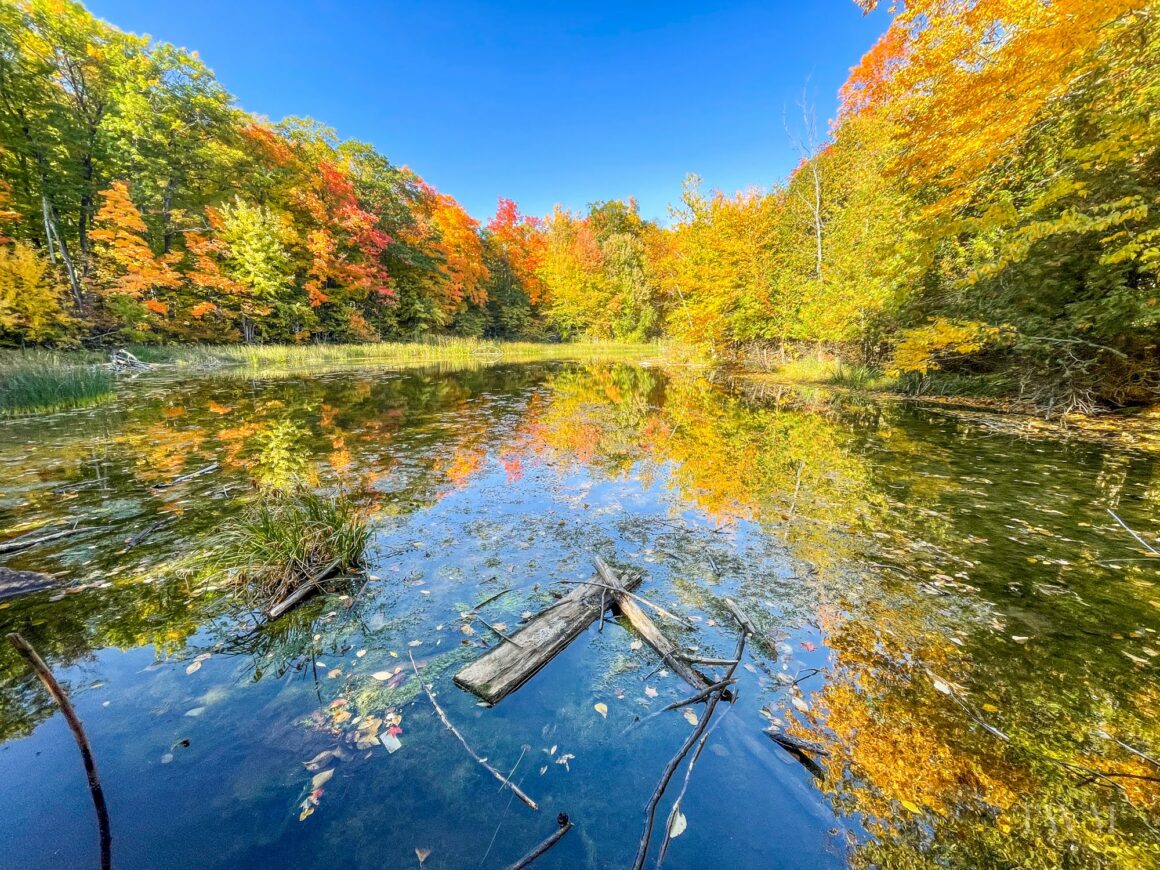 Where to park?
There is no formal parking but you can park along the road 27th Sideroad arriving on Fallbrook trail. See below: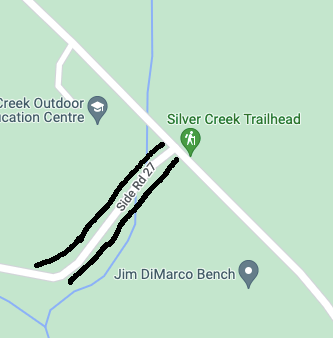 ---
Family hikes at the Silver Creek Conservation Area
You can choose between several trails to hike in the Silver Creek conservation area. However their website and All trails have slightly different ones and some are really short so we will only be mentioning the ones we thought would be interesting.
During spring, summer, fall and even winter, you can enjoy hiking, birding, dog walking and photographing/filming. We definitely loved seeing the fall colours but we are sure the area is beautiful in all seasons!
We strongly advise you to wear proper hiking shoes as terrain is varied and can be rocky in some places. On the website it is said that hiking experience is required for all of the trails.
1. Roberts Side Trail
This is the one we did as it was a loop which is something we prefer if we have the choice. Also we had not planned to do a long hike that day so it was a good compromise between too short and too long. The start of the hike is on the left of the entrance and is marked by a blue sign. The trail blazes on the trees are also blue so you can follow them to avoid getting lost.
Length: 1.5km
Difficulty: easy, some areas can be a bit tricky though but overall it is achievable for children. Our 6 year old daughter did the whole hike without the need to be carried.
Duration: It took us a little over an hour but we did stop several times to take pictures and enjoy the colours.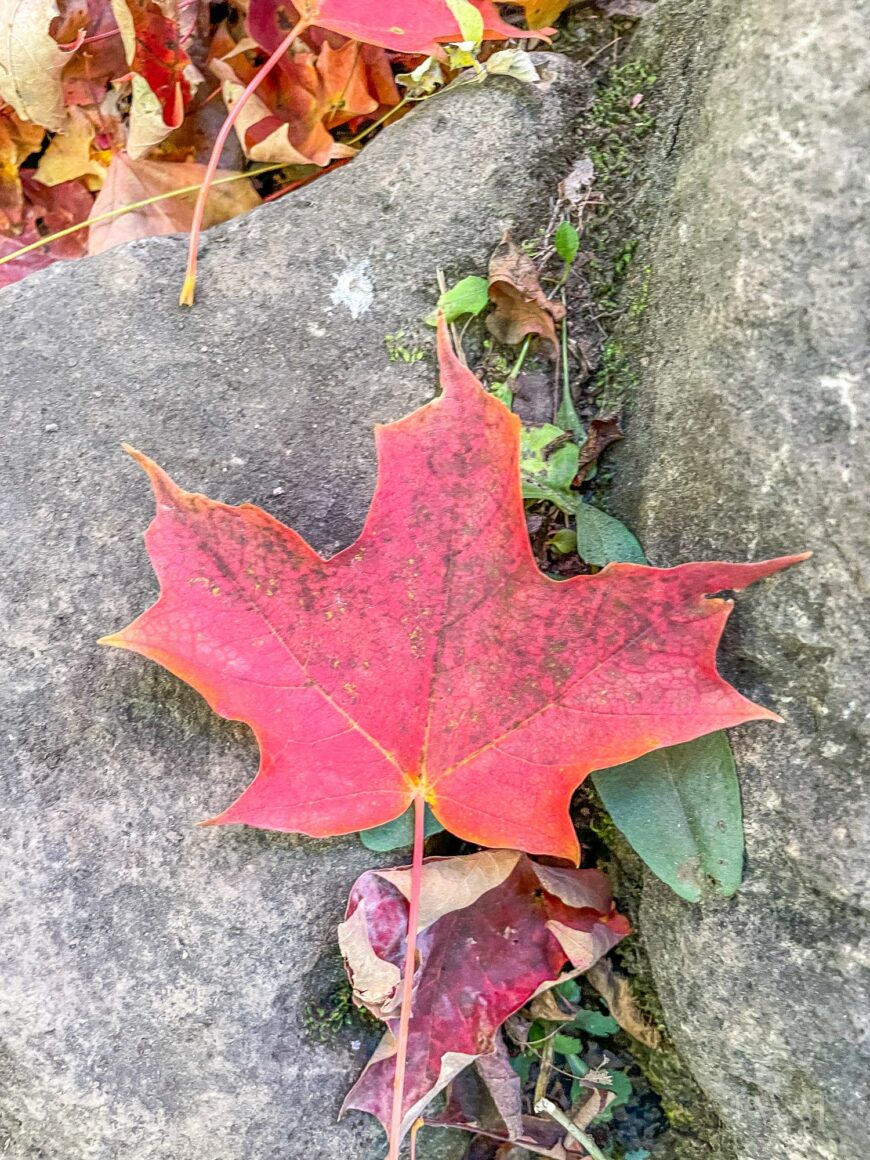 2. Irwin Quarry Side Trail
It is also a loop but slightly shorter. It is possible to combine Roberts Side Trail and this one and you can find the info on All Trails.
Length: 1.1km by itself
Difficulty: considered easy by All Trails
3. Bruce Trail
This is the longest trail in the conservation area and is out and back. If we had chosen to go in the morning and take a picnic we probably would have done this one as there are some scenic vistas. It is not on All Trails so I am not sure about difficulty level but I would say it is moderate. Length is 6.1km.
It is not on All Trails but it is mentioned on the Credit Valley Conservation website where you can also find other very small trails.
Note: none of the trails are stroller friendly. Dogs are welcome but must be on leash.
---
Other useful information
Hours
7 days a week – Open during daylight hours only
Entry fees
Free admission. There are no restrooms, facilities or staff here.
---